Attorney J. Bradley Smith answering the question: "Should I talk to the police?"

A very interesting story appeared in the Boston Globe last week and compared the surprisingly few DUI arrests in that city to numbers from other similarly sized towns, including Charlotte. The results were surprising and revealed that Boston, home to the 10th largest metropolitan area in the country, only made 241 DUI arrests last year.
The shockingly few drunk driving arrests made by Boston police officers in 2012 is puzzling because it also represents a stark drop off from recent years. Only three years ago the number of people arrested for impaired driving was 33 percent greater than last year's numbers.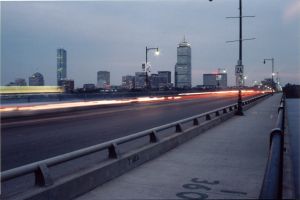 The 241 arrests are best viewed in comparison to the numbers from other similar cities. Denver, a slightly smaller city, made 3,000 DUI arrests in 2012. Philadelphia, a somewhat larger city, made 20 times the number of DUI arrests as Boston. Even here in Charlotte, with a significantly smaller metro area population, police made around 1,600 arrests in 2012, several multiples more than in Boston.

Police have not been able to come up with a good explanation for the low numbers or the recent decline in DUI arrests. Safety experts have said that the few arrests represent a general attitude in the department that disregards the danger of drunk driving. The department has been under attack in years past for refusing to conduct sobriety checkpoints, something it still does not do and something that works well for identifying drunk drivers.
The department has said that though the numbers may be low, they are not indicative of unconcern on the part of officers about the dangers of drunk driving. A spokesperson for the department said that Boston is known as a pedestrian-friendly city and that many people make use of public transportation, something that would greatly reduce the opportunities for police to make drunk driving arrests.
Others have been quick to point out that the number of DUI arrests in Boston are still dramatically lower than the number of people arrested in Washington, D.C., another pedestrian friendly city with access to good public transit options. In 2012, police in D.C. made more than 1,600 drunk driving arrests, this despite having a slightly smaller population than Boston.
Arnold & Smith, PLLC is a Charlotte based criminal defense, traffic violation defense and civil litigation law firm servicing Charlotte and the surrounding area. If you or someone you know need legal assistance, please contact Arnold & Smith, PLLC today at (704) 370-2828.
Source:
"Drunk driving arrests becoming rare in Boston," published at BostonGlobe.com.
See Our Related Videos From Our YouTube Channel:
https://www.youtube.com/user/ArnoldSmithPLLC?feature=watch
See Our Related Blog Posts:
NC Supreme Court Says "Life Sentence" Means Prisoners Must Remain In Jail For Life :: Charlotte North Carolina DWI DUI Criminal Attorney Lawyer
North Carolina Woman Takes Plea Deal Over Stealing From Neighbor's Dead Son :: Charlotte North Carolina DWI DUI Criminal Attorney Lawyer