J. Bradley Smith of Arnold & Smith, PLLC answers the question "Should I talk to the police?"
A recent United States Supreme Court has some legal observers complaining that police officers are entitled to mistakes of law, while ordinary citizens are not. The decision underlines, however, the ignorance many citizens have about their own rights under the Fourth Amendment to the Constitution of the United States.
As Maynor Javier Vasquez drove a Ford Escort north a little before eight o'clock in the morning on April 29, 2009, on Interstate 77 in Dobson, North Carolina, Sergeant Matt Darisse of the Surry County Sheriff's Department—who was observing northbound traffic—thought the Vasquez looked "stiff and nervous."
Sgt. Darisse pulled out and followed Vasquez, ultimately signaling for him to pull the car over. After he pulled Vasquez over, Sgt. Darisse explained that as long as Vasquez's license and registration checked out, he would be let off with a warning ticket. Sgt. Darisse had pulled Vasquez over, the officer explained, because one of the brake lights on the Ford Escort was out.
That one shuddered brake light became a pesky issue on the years of appeals that arose out of the encounter that began between Sgt. Darisse and Vasquez. In the end, the North Carolina state appellate courts agreed that the brake-light statute, using the language "a" stop lamp, only requires one working brake light on a motor vehicle.
That meant that Sgt. Darisse had no good reason to pull Vasquez over that morning in April 2009.
During the traffic stop, Sgt. Darisse became suspicious of the passenger in the rear seat of the Escort, who remained supine while Vasquez and Sgt. Darisse talked about the brake light. Sgt. Darisse asked Vasquez if he could search the car. Vasquez said he didn't mind, but that Sgt. Darisse ought to ask the car's owner—the man in the rear seat.
That man—Nicholas Brady Heien—gave Sgt. Darisse his consent to search the car. Sgt. Darisse and another deputy found a sandwich bag of cocaine in a duffel bag. Vasquez and Heien were both arrested.
At trial, Heien argued that since Sgt. Darisse had no lawful reason to stop the Ford Escort, the evidence that resulted from the search ought to be excluded. The North Carolina Court of Appeals agreed with Heien, but the State of North Carolina appealed, arguing that as long as Sgt. Darisse reasonably believed a violation of law had occurred, the stop and resulting seizure were lawful.
Ultimately, both the North Carolina Supreme Court and the United States Supreme Court sided with the State. In an opinion authored by Chief Justice John Roberts, the high court ruled 8-1 that Sgt. Darisse made a reasonable mistake of law when he mistakenly interpreted the brake light statute to require two working brake lights. Since his mistake was reasonable, no violation of the Fourth Amendment to the Constitution occurred.
The Fourth Amendment protects citizens against "unreasonable" searches and seizures.
The Heien decision engendered a bit of an uproar in the criminal defense community. For good reason, citizens, criminal defendants and lawyers alike worry that law-enforcement officers may abuse the "I made a reasonable mistake of law" excuse to justify erstwhile illegal searches or seizures.
While this issue is important, another very common and just as crucial issue present in Heien became lost in the clamor. Why did Heien give his consent to Sgt. Darisse to search the car?
All of the legal protection in the world cannot help a criminal defendant who is ignorant of his own rights, and who freely gives them away.
Arnold & Smith, PLLC is a Charlotte based criminal defense, traffic violation defense and civil litigation law firm servicing Charlotte and the surrounding area. If you or someone you know need legal assistance, please contact Arnold & Smith, PLLC today at (704) 370-2828   or find additional resources here.
About the Author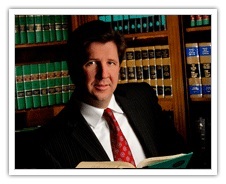 Brad Smith is a Managing Member of Arnold & Smith, PLLC, where he focuses on the areas of criminal defense, DUI / DWI defense and traffic defense.
Mr. Smith was born and raised in Charlotte. He began his legal career as an Assistant District Attorney before entering private practice in 2006.
In his free time, Mr. Smith enjoys traveling, boating, golf, hiking and spending time with his wife and three children.
Sources:
http://www.scotusblog.com/2014/12/opinion-analysis-reasonable-mistakes-of-law-by-police-do-not-violate-the-fourth-amendment/
http://www.supremecourt.gov/opinions/14pdf/13-604_ec8f.pdf
Image Credit: 
http://commons.wikimedia.org/wiki/File:LAPD_Explorer_Cuffing.jpg
See Our Related Video from our YouTube channel:
https://www.youtube.com/user/ArnoldSmithPLLC/videos
See Our Related Blog Posts: