WBTV recently reported that former NASCAR driver Jeremy Mayfield has been indicated on three counts of possession of stolen goods and one count of obtaining property by false pretenses.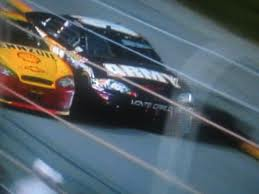 After turning himself in to the sheriff, he was released on a $25,000 unsecured bond. Mayfield and his attorney vehemently deny all the charges against him. According to his attorney, Robert Freeman, Mayfield would be entering a plea of "not guilty."
The charges stem from incidents that happened between November 1 and November 16, 2011. Red Bull Racing, Fitz Holdings, and DEA Ventures claim that Mayfield stole thousands of dollars' worth of property. The indictment also alleges that Mayfield stole a metal plate worth about $1,200. A search of Mayfield's home back in November revealed several items that had been stolen. The Sheriff's Office said that during the search they found firearms, methamphetamine, and several stolen items from Lee Boy, Inc. and Larry Grant, Inc. The Mooresville police also found audio and video equipment that was stolen from Red Bull Racing.
In May 2009, Mayfield was suspended from NASCAR indefinitely after he failed one of the association's random drug tests. He told reporters that the test registered a false positive after he took allergy medicine and Adderall. As a result of these tests, there have been several lawsuits filed between both parties.

In an interview with WBTV, Mayfield was asked whether he wanted to race again. He said, "We're gonna do something, not sure what yet but obviously we got to get all this behind us but after that and everything settles down we'll do something again, not sure what it's gonna be yet but definitely gonna race." Mayfield is obviously hoping that this very serious matter will be resolved fairly quickly and in his favor.
North Carolina law defines receiving stolen goods as a larceny and is therefore a Class H felony. Obtaining property by false pretenses is also a Class H felony. While not the most serious charges, they are still felony charges and could cause Mayfield significant problems in the future if he is convicted of either of these charges. If you are dealing with the stigma of a possible felony conviction and would like to speak with a Charlotte criminal defense attorney, please contact the lawyers at Arnold & Smith, PLLC. Call today for a free consultation at 704-370-2828.
Source
"Former NASCAR driver Jeremy Mayfield indicted in Catawba County," by Nick Needham, published at WBTV.com.
See Our Related Blog Posts
Charlotte Mother Charged With Child Abuse
North Carolina Death Row Inmate Challenges Sentence under Racial Justice Act