It must be true what they say; one man's trash is another man's treasure. Though it may not sound particularly tragic, North Carolina is evidently gripped by an odd crime wave. The number of scrap metal thefts has skyrocketed across the state recently and legislators have taken action to solve the problem. Law enforcement officials across the state are hoping a recent state law that took effect on October 1st of this year will help reduce recent increased incidents of scrap metal theft.
Though the problem might not seem like such a big deal, such metal theft rings have grown enormously in recent years.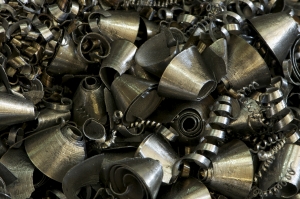 The bad economy and rising commodities pricing has forced many people to consider stealing metal for even the little amount of money it can bring them.
The change may seem sudden given that legislators have altered the state metal laws only two years ago, but the recent changes to the Metal Theft Prevention Act are meant to further discourage the crime. Under the existing state law, people attempting to sell old scrap metal have to provide valid government identification. The newest iteration of the law goes one step further in saying that sellers must now have their picture taken with the products they are attempting to sell.
Since the new law went into effect, officers are saying they have seen a decrease in the number of reported metal thefts, as those attempting to turn the products in for money are wary of having to pose for a picture with stolen goods.
Under the updated law, police have the right to stop by and check scrap yards to ensure they are complying with the newest laws whenever they want. Though legislators wanted the increased power to crack down on metal thefts, the broad powers seem like overkill to others who worry about police power to constantly intrude in the scrap metal business.
Another component of the recent change grants law enforcement officials more discretion in deciding what charges they can bring against suspected criminals. Before the implementation of the new law, criminals faced misdemeanor larceny charges for whatever they stole. Now, if they cause damage to the property they steal from, they also could face felony charges.
Property damage valued between $1,000 and $10,000 could result in a Class H felony. If convicted, an offender could be sentenced to between five and 20 months in prison. Damage estimated to be more than $10,000 would be a Class F felony, carrying a sentence of one year and one month to two years and 11 months in prison.

If you or a loved one need the advice of a skilled North Carolina criminal defense lawyer, you can turn to Arnold & Smith, PLLC who will provide you with the best possible defense against any charges brought against you. For a free consultation, please contact us today at (704) 370-2828.
Source
"New law in North Carolina aims to combat metal thefts," by Caitlin Dineen, published at FayObserver.com.
See Our Related Blog Posts
North Carolina Crime Lab Falls Further Behind