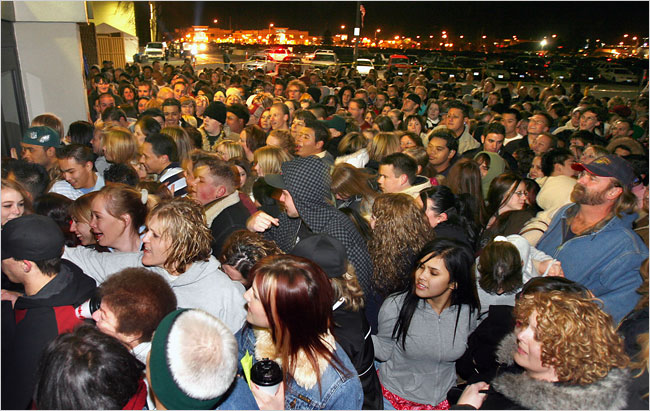 According to a recent news report by WRAL, police in Fayetteville are searching for two armed suspects who opened fire in a crowded shopping mall. Shoppers had already begun to arrive in anticipation of Black Friday's massive retail discounts when the shooting began. Police say that one of the suspects fired the first shots around 2 a.m. near the entrance to the food court at Cross Creek Mall in Fayetteville, North Carolina. One individual ran inside the mall, followed by another armed man when the second suspect fired a second round of shots outside of the Macy's Department Store.
Police say that no one with injuries checked into the local hospital, Cape Fear Valley Medical Center. Although no one was injured by the gunfire, the incident caused panic and chaos throughout the crowded shopping mall. Shoppers were frightened and many of them left the Cross Creek Mall to continue their Black Friday shopping in a less gunfire prone location.
Some shoppers reported people being trampled in the melee as the terrified shoppers tried to find a place of safety. One shopper was reported as saying, "People were running and they were yelling. . . Our first instinct was to hide, to get away from the situation." That, however, did not seem to stop the holiday shopping spirit and Black Friday buying quickly resumed after the Cumberland County Sheriff's Department restored order at the mall.
The shooting at the Cross Creek Mall was not the only episode of violence that erupted this weekend among eager Black Friday shoppers. There were several reported incidents across the country where overzealous shoppers resorted to unsavory tactics to take advantage of Black Friday's retail discounts. In Los Angeles, California a woman allegedly pepper-sprayed her fellow shoppers as she was attempting to securer X-Box gaming consoles on sale at a local Wal-Mart. There was also an incident in Kingston, North Carolina where a security guard was forced to use his pepper spray to bring order to an unruly crowd.
If and when the suspects in the Cross Creek Mall incident are captured, they may face several possible state and federal charges. If either suspect has been previously convicted of a felony, they come under the jurisdiction of the Felony Firearms Act in North Carolina which prohibits felony offenders from buying, owning, or possessing firearms. There are also federal firearms statutes that apply to felony offenders who are found in possession of handguns and other firearms. Both of these laws may apply simultaneously (because the federal and state governments are independent sovereigns), increasing the likelihood that these gunmen will face several years behind bars.

The gunmen could also face civil action by the shoppers who were traumatized by event. If any of the shoppers suffered severe emotional distress, they could, in theory, sue the gunmen for intentional infliction of emotional distress, assuming that the shoppers could prove the causal connection between their severe emotional distress and the gunmen opening fire in the Cross Creek Mall. However, it is unlikely that, even with a civil victory, the victims would be able to collect a significant judgment. The gunmen will likely not have the deep pockets sufficient enough to compensate the victims for any damages they may have suffered.
If you or someone you know find yourself in similar circumstances, the attorneys at Arnold & Smith, PLLC will work to fight hard on your behalf. If you have any questions regarding any criminal or civil matters, contact the law offices of Arnold & Smith, PLLC at (704) 370-2828.
Sources
Two Sought in Black Friday Shooting at Fayetteville Mall
Black Friday Shopping Takes a Dark Turn
See Our Related Blog Posts
Man Convicted of Murdering Two Charlotte Officers Last Year Appeals
Racial Justice Act May Delay Mecklenburg County Death Penalty Cases