Attorney J. Bradley Smith answering the question: "What is the difference between a misdemeanor and a felony?"

Police in Kings Mountain, North Carolina say a 57-year-old woman has been arrested and charged with beating another woman with a Bible. According to authorities, the woman, Evelyn Mills Moore, was arrested over the weekend on a charge of assault inflicting serious injury.
Moore's arrest report says that the woman used her firsts and a nearby Bible to repeatedly strike the other woman. Apparently the incident was not religiously motivated, but instead a domestic dispute that turned physical. The Bible had no special significance other than that it was the nearest, heaviest object that the woman could get her hands on. The victim in the attack suffered bruises on her head, face and arms.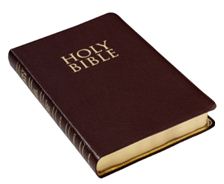 In a related incident, police also charged Moore with assault for attacking a man. Moore allegedly hit and punched the man with her fist, causing numerous bruises across his face and body. The woman is currently in Cleveland County jail and authorities say they do not believe she has hired a criminal defense attorney.
North Carolina has a series of aggravating factors that raise the seriousness of the offense from a Class 2 misdemeanor to a Class 1 or Class A1 misdemeanor (discussed under N.C.G.S. 14-33). For example, committing an assault against an official at a sporting event is a Class 1 misdemeanor. If a man, 18 years of age or older, assaults a female, he is guilty of a Class A1 misdemeanor, which is the most serious misdemeanor class. A person who assaults a child under the age of 12 years old is also guilty of a Class A1 misdemeanor.

Assault inflicting serious bodily injury, which is what Moore has been charged with, is a Class F felony that is punishable with up to 49 months in prison, depending on a person's prior convictions. The crime hinges on the definition of "serious injury" and whether the injuries to the victim in the particular case meet the definition. Factors such as hospitalization, pain, loss of wages, and permanent disfigurement are considered by the court in such cases.
Arnold & Smith, PLLC is a Charlotte based criminal defense, traffic violation defense and civil litigation law firm servicing Charlotte and the surrounding area. If you or someone you know need legal assistance, please contact Arnold & Smith, PLLC today at (704) 370-2828.
Source:
"Kings Mountain woman accused of Bible beating," by The Associated Press, published at WCNC.com.
See Our Related Videos From Our YouTube Channel:
https://www.youtube.com/user/ArnoldSmithPLLC?feature=watch
See Our Related Blog Posts:
Expect an Increase in the Number of Dashboard Cameras in North Carolina Patrol Cars