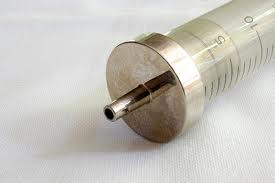 According to a recent report by WBTV, a Charlotte, North Carolina, woman has been charged with multiple counts of child abuse after being caught on camera injecting something into her daughter's IV in the hospital. Ladonna Parlier, 26, was arrested after police determined that she had abused her 5-month-old daughter on several occasions. The little girl remains in stable condition at Carolina Medical Center-Main. On the night of Wednesday, February 3, 2012, police were called to the hospital after officials caught her "aspirat[ing] blood from [the infant] and then [inject] some unknown substance into the victim with syringes, while both of them were staying in the same room."
After a combined investigation with the Department of Social Services, the police charged Parlier with child abuse. It was unclear from the article why the 5-month-old was in the hospital in the first place, but the police had been investigating Parlier for child abuse allegations prior to the hospitalization of the victim.
Parlier's family is in shock that she could be accused of such a heinous crime. Her husband, Tim, said, "I can't point fingers at her, point all the blame, but waking up this morning learning new stuff… I can't rule it out." Tim also revealed that after the baby was born, Parlier was prescribed antidepressants, but at the time of the incident she had stopped taking them. Her brother also expressed his shock and confusion about the charges that his sister is now facing. He said, "Right now we're confused, because we thought she would not do anything of this nature… I don't think there's anything in the world that she loved more than that baby."
When Parlier was arrested, she was charged with five counts of child abuse inflicting serious injury, which are felony counts, and five counts of child neglect, which are misdemeanors. Her bond is set at $137,500. She is supposed to appear in court this Friday, February 10, 2012, which will be her first court appearance since her arrest.

Child abuse charges are extremely serious and anyone who is faced with these charges needs the assistance of an attorney. No one facing such heinous charges should face the full force of the criminal justice system without competent representation. The attorneys at Arnold & Smith, PLLC are well versed on the ins and outs of the North Carolina criminal justice system and are dedicated to assisting their clients in mounting the best defense possible. If you are ever in need of the services of a Charlotte criminal defense attorney, please do not hesitate to contact Arnold & Smith, PLLC for a free consultation at 1-704-370-2828.
Source
"Mom caught on camera tampering with infant daughter's IV, source says," by Chris Dyches, published at WBTV.com.
See Our Related Blog Posts
North Carolina Pregnant Woman's Accused Killer Apprehended
Charlotte Restaurant Killing Sparks Questions over Background Checks