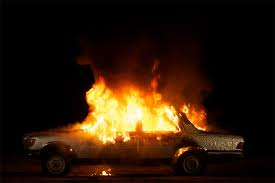 According to a recent report by WCNC, Charlotte-Mecklenburg police are investigating a murder-suicide that happened earlier in the month. Police were called to the home of 32-year-old Stephanie Ott to assist the fire department with a forced entry into the home. When the policemen and firefighters successfully entered to the home, they found Ott dead. They also found that the floors and the furniture had been soaked in gasoline. The fire department was called initially because a pile of debris and an abandoned car were burning on the side of the house.
Following the discovery of Ott's body, the police canvassed the neighborhood trying to determine what happened and attempting to find the suspect. In a neighbor's shed, they found the owner of the house that Ott lived in, 52-year-old Robert Stover. He had barricaded himself inside and a few moments after being confronted by police, Stover committed suicide inside of the shed.
The initial investigation of the crime revealed that Ott and Stover had been having problems. They were roommates and neighbors told police that Stover had been trying to get Ott to leave his home, but he had been unsuccessful. Ott had only been living with Stover for a few months prior to her death, but from the time she moved in there were problems. The neighbor across the street, Oscard Villegas said, "Every time they argue they bring it outside. . . . Even when they're inside they scream at the top of their lungs."
Neighbors spoke highly of Stover, saying that he was a good neighbor, considerate, and willing to help when needed. Daniel Koontz, a student at UNCC who lived next door said that Stover brought him a basket of tomatoes when he first moved into the neighborhood. Villegas told WCNC that Stover would give him and his father rides the store when their car was broken down. However, not everything was as nice at it seemed.

Villegas reported that Stover had a sign posted near the mailbox telling trespassers that they would be shot if they stepped any closer. Villegas admitted that the sign made him nervous and caused him to be cautious around Stover. Despite the posted warning Villegas said he was still shocked when he learned about the incident.
In this unfortunate turn of events, it seems that the person who is criminally responsible for the death of Stephanie Ott committed suicide and thus will not be held responsible for the crime. Without a perpetrator no criminal charges will ever be filed nor will any suspect be tried and convicted for the brutal slaying.
Such a case is rare as most criminal acts result in criminal prosecutions. In such cases having an experienced Charlotte criminal defense attorney on your side is required to protect your rights. If you find yourself in need of the services of a Charlotte criminal defense attorney, please contact Arnold & Smith today at (704) 370-2828.
Source
Police investigate murder-suicide in northeast Charlotte
See Our Related Blog Posts
Man Found Guilty in Death of UNC Student