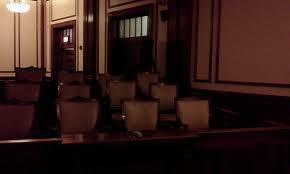 WRAL recently reported that a North Carolina jury has found Laurence Lovette, Jr. guilty of murder in the tragic 2008 shooting death of Eve Carson, a UNC Chapel Hill student who was brutally murdered. In the prosecution's closing argument, they told the victm's story. She was kidnapped at gunpoint near her home and was held for several hours. Lovette and another individual stuffed her in her own car and drove her to two separate ATMs. Lovette then took a total of $700.00 from her bank account.
The prosecution told the jury that there was overwhelming evidence against Lovette. He was seen by surveillance cameras near the scene of the crime just a few minutes before Carson was kidnapped. Lovette was also caught by the ATMs' security cameras while he was withdrawing money from Carson's account.
In addition to being found guilty of first-degree murder, Lovette was also convicted of first-degree kidnapping, first-degree armed robbery, felonious larceny, and felonious possession of stolen goods. For the murder conviction, he will spend the rest of his life in prison. The sentences for the other charges are to run consecutively with the life sentence. Thus, there is no possibility of Lovette being released from prison.
His attorneys tried to explain to the jury during sentencing that Lovette had a difficult childhood. His father died at age 13 and by age 17 he was on his way to becoming a hardened criminal. Defense attorney Karen Bethea-Shields said that her client is very compassionate despite the prosecution's claims that he is a callous cold-hearted killer. She said, "He has a very close-knit family, and it's very difficult for his family… He knows that, and he worries about his mother and sisters. He's grown a lot since 2008, and he has plans, even now when he goes to prison, to get his education degrees and keep on doing what he needs to do to make himself better."

While the defense during sentencing attempted to make the jury understand their client, the prosecution kept the focus on the victim, Eve Carson. Not only were her parents affected by the tragedy, but the entire student body at UNC Chapel Hill felt the pain of losing one of their own. At the time of her death, Carson was president of the student body and was taking her new position seriously. Her parents did not wish to make public statement after the sentencing, deciding only to thank the jury for their time and service.
Criminal law is a complicated area and only experienced attorneys should be retained to handle high profile criminal cases. The attorneys at Arnold & Smith, PLLC will provide you with the quality representation you deserve. If you or someone you know is in need of the services of a Charlotte criminal defense lawyer, please do not hesitate to contact Arnold & Smith, PLLC for a free consultation today.
Source
Lovette found guilty in Eve Carson's 2008 shooting death