If you're going to be a thief one important rule that is good to keep in mind is to never sell your stolen goods to a police officer. Unfortunately, three teens in the Valley Dale community forgot that lesson and are now in jail as a result. According to WCNC, earlier this month burglary investigators arrested 19-year-old Jeremy Moody, 17-year-old Detevin Butts and 18-year-old Tai-Quan Rodgers on burglary charges.
The story began when a woman, who has declined to be identified, walked out of her house Monday morning and realized her car had been stolen. She was stunned and immediately called the police to report the crime. Police detectives believe the thieves stole the woman's care to help haul off stolen goods given that her BMW was reported near the scene of two other break-ins in the area.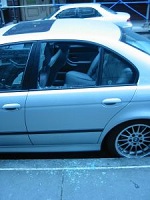 The three men attempted to sell their stolen goods, but one of the potential buyers became suspicious and called police to report the situation. After the tip, CMPD officers mobilized and called the suspected criminals posing as a buyer, which led to their eventual arrest. Police have said they are currently attempting to figure out how many other robberies can be tied to the group of thieves.

Though the men will face criminal charges for their theft of goods, they should also be prepared for charges related to the vehicle theft. In an odd twist of North Carolina law, and a surprise to most people, there is no separate vehicle theft offense. North Carolina has an unauthorized use of a vehicle offense, it is a crime to steal gasoline, it is illegal to steal motor vehicle parts and even to transfer a stolen vehicle, but nowhere does the law address stealing a car.
Instead, motor vehicle thefts are prosecuted under the general larceny statute. This means that such thefts are generally considered a misdemeanor when the vehicle is worth less than $1,000, and are a felony when the vehicle is worth more than $1,000. Given that the car in this case was a BMW, it is likely the three suspects are facing a serious felony charge, something that requires the help and guidance of an experienced North Carolina criminal defense attorney.
Arnold & Smith, PLLC is a Charlotte based criminal defense, traffic violation defense and civil litigation law firm servicing Charlotte and the surrounding area. If you or someone you know need legal assistance, please contact Arnold & Smith, PLLC today at (704) 370-2828.
Source:
"Criminals make mistake of selling stolen goods to officers," by Glenn Counts, published at WCNC.com.
See Our Related Blog Posts:
Armed Robbery Gets North Carolina Man 176 Years Behind Bars