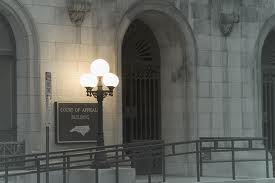 Citing sixteen separate reasons for his case to be overturned, attorneys for Demeatrius Montgomery have filed an appeal almost one year after he was convicted for killing two CMPD officers at the Timber Ridge Apartments in 2007. In an interview with Charlotte News Channel 14 on September 27, 2011, Charlotte criminal defense attorney Brad Smith cites the fact that Mr. Montgomery barely spoke to his attorneys during the three and a half years his case was pending as evidence that he may not have consented to those attorneys representation of him in his trial. According to Mr. Smith this could be grounds for appeal.
At 11:30 p.m. on March 31, 2007, Charlotte Police Officers Sean Clark and Jeff Shelton responded to a disturbance at the Timber Ridge Apartments. After resolving the disturbance, the officers were headed back to their cars when they struck up a conversation with a man, who had nothing to do with the prior disturbance. Once the officers began walking away, that man, later identified as Mr. Montgomery, opened fire on the officers shooting both in the back. Both officers died of their injuries the next day.
The trial itself was not without issues. First was the fact that even though prosecutors initially wanted to seek the death penalty, once it was shown that an investigator on the case destroyed his own notes and plagiarized those of other officers, the judge ruled that he would not allow the death penalty to be a possible sentence if Mr. Montgomery were convicted. Next, none of the prosecution's seventy witnesses ever saw Mr. Montgomery pull the trigger, and there was no physical evidence linking him to the murder weapon. The prosecution's case primarily rested on testimony that Mr. Montgomery was in the area and had a history of violence towards police. Last was Mr. Montgomery's failure to participate in both building a defense with his own attorneys as well as participating in the trial.
Now, based on those issues, Mr. Montgomery's attorneys have appealed stating that testimony that was admitted at trial was either not credible or inappropriate as well as alleging that Mr. Montgomery was incompetent to stand trial. This appeal will likely take months or years to resolve, and, according to Charlotte criminal defense attorney Brad Smith, could even result in oral arguments before the North Carolina Court of Appeals.

Sources:
Year after double murder conviction, Montgomery attorneys begin appeal
Convicted cop killer's attorney files appeal papers