J. Bradley Smith of Arnold & Smith, PLLC answers the question "Can I be arrested without evidence against me?"
Kenneth Lamont Clark runs a strip club and his patrons pay for their entertainment with cash. A lot of cash. So when deputies in Harnett County who were partnering with a United States Drug-Enforcement Agency task force pulled over and searched Clark, they found cash. Lots of it. Two stops—the first on Feb. 26, 2013 and the second on March 12, 2014—netted law-enforcement officials some $130,000.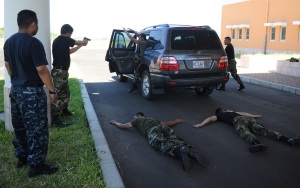 Clark was not issued a citation in either of the stops, nor was he charged with a crime. Nonetheless, since the deputies who pulled Clark over claimed drug-sniffing dogs "alerted to drugs" in his vehicle, they seized Clark's money.
Federal law allows agents to seize currency that "was used, or intended to be used, in exchange for controlled substances, or [currency that] represents proceeds of trafficking in controlled substances[.]" North Carolina law contains no similar forfeiture law. In order to get around that, local law-enforcement agencies partner with law-enforcement officers in federal agencies. Under a program called "equitable sharing," if local law-enforcement officials make the bust, they get to keep most of the money seized.
Last month, United States Attorney General Eric Holder issued an order placing more restrictions on the seizure of assets pursuant to the equitable-sharing program. The restrictions mean that it will be tougher for local law-enforcement officials to seize and keep proceeds of alleged criminal activity unless the alleged criminal activity "relates to public safety concerns, including firearms, ammunition, explosives, and property associated with child pornography."