A report out of WCNC.com, reveals that a Charlotte man is now behind bars after a hospital employee was attacked and held at gunpoint just outside Presbyterian Hospital. This recent attack marks the third such incident in as many weeks.
The latest assault took place around 4 p.m. Tuesday, July 17, 2012 at the main hospital located in the Elizabeth neighborhood. A female employee was leaving work when she was robbed at gunpoint in an elevator in the parking garage adjacent to the hospital's orthopedic center.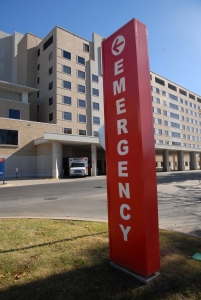 Thankfully, the employee was not injured in the attack. Police say the gunman, Lejarris Williams, took the employee's purse and ran from the scene but was quickly apprehended by Presbyterian Healthcare Public Safety Officers on a nearby street.
Not all the victims have been as lucky as the woman in this incident. An earlier attack left a nurse badly injured after having been stabbed three times and robbed in another hospital parking lot in the early morning hours of June 27th. Later that same day, another employee, Kelli Hannum, says she was robbed in the parking lot.
Presbyterian Hospital began offering a $10,000 reward on June 28 to help find out who was responsible for the first two attacks. The hospital also beefed up security. Many in the area are relieved at the news of the recent arrest but police have not yet said whether Williams is connected to the two previous attacks.

If you have been charged with a weapons violation in North Carolina, you could be facing a major fine, probation or even jail time. If your weapons violation is connected with another charge, such as a drug crime or, as in this case, a robbery, you could face a serious jail sentence.
No matter what events transpired to place you on the wrong side of the law, the guidance of a skilled Charlotte criminal defense attorney can be a great help during all stages of the judicial process. No attorney can guarantee results and every client's situation is different, but a skilled criminal defense lawyer can steer you through the criminal justice system in the most advantageous way possible.
The North Carolina criminal defense lawyers at Arnold & Smith, PLLC will provide you with the best possible defense against any charges brought against you. For a free consultation, please contact Arnold & Smith, PLLC today at (704) 370-2828.
Source
"Man arrested for third Presbyterian employee attack," published at WCNC.com.
See Our Related Blog Posts
Charlotte Police Still Looking for Suspect in North Carolina Drive-By Mall Shooting