According to a recent report on WISTV, Charlotte police are ready for the thousands of protestors that will surely descend on the city during the Democratic National Convention in early September. The police department has added thousands of officers from outside departments and spent millions on training, equipment and temporary barriers. All that plus the very helpful layout of the city should ensure the police have the upper hand on any rowdy visitors.
The city's geography should help police as the convention will take place in the heart of the business district which is flat and surrounded by interstate.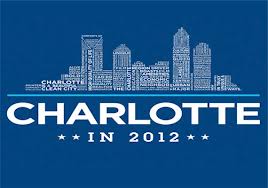 The police will easily be able to surround and secure protestors should the need arise. Police Chief Rodney Monroe says he's ready to do what needs to be done to keep the city calm and says that if protestors start agitating people he won't hesitate to take action.
Charlotte has spent some $50 million in federal money to buy new equipment and train officers. The city sent 100 officers to Chicago during the NATO conference earlier this summer to get a feel for what things might be like when the DNC comes to town. The city will also add some 3,000 officers from outside to help boost its existing force of 1,750 officers. Temporary concrete barriers along with 9-foot-high steel fences will spring up across town and serve as a way to manage crowds at key locations in the city.
More than spending money, the city is passing laws that will allow for a possible crackdown. Charlotte adopted a measure in January of this year that would allow the creation of designated spaces for people to gather during large events and prevent them from carrying backpacks or other items in those spaces. The City Council passed new security rules for what it referred to as "extraordinary events," a label which has been applied not only to the DNC, but also to shareholder meetings for Duke Energy and Bank of America. The rules will permit searches of backpacks, briefcases, messenger bags, and carry-on luggage. Grounds for potential immediate arrest are possession of spray paint, hammers, crowbars, utility knives, padlocks, lumber, and permanent markers.

The ACLU of North Carolina has come out against the sweeping rules saying that they grant "unlimited discretion" to the city over nonviolent protests and civil rights and that the law could serve as a means of chilling free speech.
Arnold & Smith, PLLC is a local criminal defense and civil litigation firm who represents clients throughout Charlotte and surrounding counties. For a free consultation regarding your criminal defense matter call 704-370-2828 today.
Source
"Charlotte police say they're ready for protests," by Mitch Weiss, published at WISTV.com.
See Our Related Blog Posts
Incarcerated Juveniles in North Carolina Prepare for Sentencing Changes