Charlotte Criminal Lawyer Brad Smith answers the question: "I was found not guilty of a charge, buy my record still shows the charge. What is going on?"
What are Criminal Diversion Programs?
A criminal conviction can have devastating effects on you and your family. If you are convicted of a criminal charge you could face severe penalties that might include fines, jail time, and more. What can impact your life even more is having a criminal record. A criminal conviction could prevent you from getting a home or apartment, hamper your career, and keep you from going to college. Many people do not realize that there is a possible way to prevent a criminal charge from having a severe impact on your life. Pretrial diversion programs may be available that will help you resolve the charges in a more favorable way. 
What is a Criminal Diversion Program?
Diversion programs are designed to provide rehabilitation to some people who have been charged with first-offense low level crimes. The purpose of the diversion program is to allow a defendant to participate in a program that will give them some education and rehabilitation to prevent future criminal behavior. The goal is to resolve criminal charges outside of court, which offers advantages to everyone. There are diversion programs available under some circumstances for both youth and adult offenders. 
Diversion Programs for Adults
Diversion programs are a good option for those who wish to minimize their crime and resolve to take steps to prevent future lapses. If a diversion program is an option you will generally need to sign an admission of guilt to participate. Once you complete the program assigned by the court, the charges against you will be dismissed and it will not be considered a criminal conviction. 
Alcohol Education Program

– An alcohol education program may be appropriate for a first time offender of an alcohol-related crime. A participant must typically sign an admission of guilt. The program usually includes 15 hours of classes along with payment of program fees and court fees. The participant must stay out of trouble for one year and must continue to work or attend school. 

Drug Education Program

– You may be eligible for a drug education program if this is a minor, first drug-related offense. To participate, you must sign an admission of guilt. You will be required to take part in and pay for a drug education class. You cannot have any additional criminal charges for a year and are subject to regular random drug testing.

Conditional Discharge Program –

North Carolina law

allows for the conditional discharge of minor drug offenses under some conditions. This program, commonly called the 90-96 program, includes a discharge of charges upon completion of a drug assessment program and payment of associated fees and court costs. The participant will also be required to complete some hours of community service. 

Felony Drug Charge Diversion Program – A felony charge program requires a first time felony offender to participate in a one-year drug program. During the year you will meet with your case manager monthly. You must take part in a drug education program and pay fees and court costs. You will be subject to random drug testing. 
Juvenile Diversion Programs
Juvenile criminal offenses can be particularly concerning. Juveniles may qualify for a diversion program specifically designed for young people. Various programs may be available to assist youth offenders overcome their behaviors rather than placing them into a youth development center. Other programs are meant to handle juvenile problems such as truancy and disruption in the classroom. A misdemeanor diversion program is available to some first offenders who are 16 or 17 years of age. Generally, youth diversion programs will be tailored to meet the specific needs of the individual. As with adult programs, if the juvenile successfully completes the program, the charges will be dropped. 
It is important to note that diversion programs are available only to first-time offenders and to juveniles who are not already part of the system. Your attorney will work with the court to determine whether you may be allowed to take part in a diversion program. If you have been charged with a crime, we can help. Get a phone, video or in-person consultation by calling at (704) 370-2828 to speak with our detail-oriented and well-versed lawyers with offices in Charlotte, Lake Norman, and Monroe, please contact Arnold & Smith, PLLC today or find additional resources here.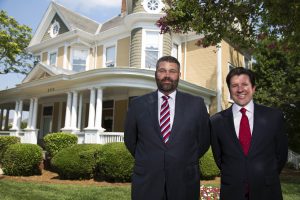 The criminal defense attorneys at Arnold & Smith, PLLC make it their mission to zealously defend their clients on a wide range of criminal matters at both the state and federal levels. These matters may include any charge from traffic offenses; DWI/DUI; drug charges (from simple possession to possession with intent to distribute and trafficking); gun permit denials; weapons offenses; and property crimes (larceny, breaking and entering, robbery, fraud, embezzlement, white collar offenses); to sexually related offenses (indecent exposure; sexual assault, crimes against nature, removal from sex offender registry); and violent crimes (domestic violence; assault; manslaughter; homicide, murder). Other legal issues that Arnold & Smith, PLLC criminal clients may be facing include restraining orders, restraining order and probation violations, expungements; appeals; and immigration issues related to criminal charges. Our criminal defense attorneys are passionate about ensuring that individuals empower themselves by being informed about their constitutional rights, and stand at the ready to fight in the defense of those facing criminal charges.
Source:
North Carolina General Statutes Chapter 90. Medicine and Allied Occupations § 90-96 | FindLaw
diversion | Wex | US Law | LII / Legal Information Institute (cornell.edu)
Image Credit:
See Our Related Video from our YouTube channel:
Arnold & Smith, PLLC – YouTube
See Our Related Blog Posts: