A recent report on WBTV.com sited a recent series of robberies perpetrated by a man wearing a Frankenstein mask. The alleged burglar wore the mask as he robbed four Charlotte, NC area gas stations. Police believe the same man is responsible for at least three other convenience store robberies in the last two weeks.
Eric Christopher Orr is accused of robbing all four gas station in less than two hours on his birthday. Police say an armed man entered four stores with a Frankenstein mask and demanded money from the cashiers. The gunman apparently followed a path down the Harris Boulevard corridor, as he struck about 3:20 a.m. at a convenience store on The Plaza near Harris Boulevard.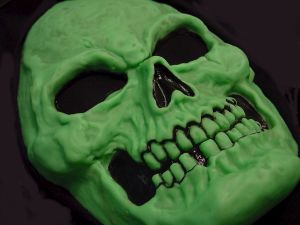 About 20 minutes later, he robbed a Kangaroo Express in the 7300 block of Albemarle Road, not far from Harris Boulevard again. The final robbery happened about 4:20 a.m., in the 7000 block of East W.T. Harris Boulevard. That is a short distance north of Hickory Grove Road.
He is also believed to be associated with the robbery on August 29, 2012 at the Kangaroo Express on West Sugar Creek Road, the Circle K robbery on September 4, 2012 at 7214 The Plaza and the robbery at the BP Station on September 5, 2012 at 8111 Bellhaven. Thankfully for everyone involved there were no injuries reported during any of the recent four robberies.
Charlotte-Mecklenburg Police spokesmen say that Orr is now behind bars after a search was conducted where the police publicized security camera footage of the robberies. Officers happened upon Orr accidentally, arresting him at first for driving a stolen car. Only later did they realize that he matched the description of the man accused of robbing the gas stations.

Arnold & Smith, PLLC is a Charlotte based criminal defense and civil litigation law firm servicing Charlotte and the surrounding area. If you or someone you know need legal assistance, please contact Arnold & Smith, PLLC today at (704) 370-2828.
Source
"Police arrest "Frankenstein" gas station robber," by Martha Sellers, published at WBTV.com.
See Our Related Blog Posts
Charlotte Man Arrested for Presbyterian Hospital Attacks