Charlotte Criminal Lawyer Brad Smith answers the question: "Should I ever plead guilty to a charge?"
For those following the 2016 election, it's been a very interesting past year or so, to say the least. No one could have predicted many of the headline-grabbing events that have occurred, including the most recent involving the release of a tape where Donald Trump made lewd comments regarding women. In an attempt to change the national conversation, Trump made a rather dramatic pronouncement at this weekend's second presidential debate. According to Trump, if he wins in November, he will launch a criminal investigation of Hillary Clinton and her use of a private server while serving as Secretary of State. Though some cheered while others were left aghast, many more wondered whether such a thing is even possible. To find out more, keep reading.
First, let's be clear on just what exactly it was Trump said. In the midst of a conversation about Clinton's use of a private email server, Trump announced the following: "And I'll tell you what. I didn't think I'd say this, but I'm going to say it, and I hate to say it. But if I win, I am going to instruct my attorney general to get a special prosecutor to look into your situation, because there has never been so many lies, so much deception. There has never been anything like it, and we're going to have a special prosecutor." Clinton responded by saying she's glad someone like Trump isn't in charge of making the law, prompting Trump to retort: "Because you'd be in jail."
In the aftermath of the debate, Trump's campaign manager attempted to backpedal, saying that there was no real plan to launch any criminal investigation of Clinton should Trump win the election. Though there's debate about whether the threat is genuine, critics responded almost immediately. Some argued that even making such a threat should be viewed as a threat to a stable democracy. Others noted that a president would not have the authority to launch such an investigation.
One constitutional scholar interviewed after the debate noted that the president lacks legal authority to order the Attorney General to appoint a special prosecutor. The professor, Laurence Tribe, noted that other examples of leaders who have used similar tactics include Hugo Chavez, Robert Mugabe and Vladimir Putin, despots from foreign dictatorships, not American presidents.
Michael Mukasey, Attorney General under President George W. Bush, noted that while a president can ask an AG to look into an issue, he or she has no power to order any investigation be commenced. The AG is required to exercise his or her independent discretion and does not act at the direction of the president. AG's are expected to act independently, from both the executive and legislative branches of government. To follow the direct order of a sitting president would threaten that independence.
When asked if there were previous examples of such a situation, several experts said they could not think of any direct comparisons in the history of the U.S. One expert mentioned that if Trump did win the election, there would be an easy way to ensure that Clinton doesn't face charges related to her use of the private server: President Obama could simply issue a pardon, essentially immunizing Clinton from any potential future investigation. Whether it ever comes to that, we'll have to wait and see.
If you or someone you know has been charged with a crime, please contact the experienced criminal defense attorneys at Arnold & Smith, PLLC. Our attorneys stand at the ready to defend you against state or federal charges. Please contact Arnold & Smith, PLLC today at (704) 370-2828   or find additional resources here.
About the Author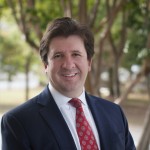 Brad Smith is a Managing Member of Arnold & Smith, PLLC, where he focuses on the areas of criminal defense, DUI / DWI defense and traffic defense.
Mr. Smith was born and raised in Charlotte. He began his legal career as an Assistant District Attorney before entering private practice in 2006.
In his free time, Mr. Smith enjoys traveling, boating, golf, hiking and spending time with his wife and three children.
Sources:
Could a President Donald Trump Prosecute Hillary Clinton?
Image Credit:
http://www.freeimages.com/photo/breakout-1181601
See Our Related Video from our YouTube channel:
https://www.youtube.com/user/ArnoldSmithPLLC?feature=watch
See Our Related Blog Posts: