Charlotte DWI Lawyer Brad Smith answers the question: "Can I represent myself on a traffic ticket?"
If the mere thought of standing in front of a judge in court is too overwhelming or scary, you may wonder whether your criminal defense lawyer can appear in court for you. If, for some reason, you cannot or do not want to show up at a court hearing in person, can your attorney appear on your behalf so that you do not have to reschedule the upcoming hearing?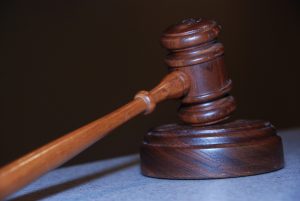 That depends on the type of offense you have been accused of committing. In North Carolina, a variety of crimes are classified as "waivable offenses." If you are being accused of committing one of those waivable offenses in Charlotte or other parts of North Carolina, your attorney can appear in court on your behalf.
What are those waivable offenses? What happens if you fail to appear at a court hearing in North Carolina?
What are the Waivable Offenses in North Carolina?
Most criminal offenses require the defendant to appear in court in person. However, if you are being accused of a "waivable offense" in North Carolina, you can hire a criminal defense attorney to stand in front of a judge on your behalf.
Generally, if a defendant's offense is considered "waivable," they have two options:
Pay court fees and fines before the court hearing; or
Hire a lawyer to appear in court on their behalf.
Either way, the defendant is waiving their right to appear at a court hearing by (a) paying the fines or (b) hiring an attorney to appear in court for them. However, only a handful of offenses are waivable in the State of North Carolina. Most of the time, the defendant's presence at a court hearing is mandatory.
In order to determine whether yours is a waivable offense, check the backside of the ticket. The majority of waivable offenses are minor traffic tickets, which is why the ticket will indicate whether the offense is waivable or non-waivable.
However, if you are planning to plead "not guilty," you will have to appear in court in person to enter a plea regardless of whether your offense is waivable or not.
Note: By paying the fines you are automatically pleading guilty to the offense. There would most likely be consequences of pleading guilty such as the suspension of a driver's license and/or higher insurance premiums.
For this reason, it is advised to consult with an experienced local criminal defense attorney in the Charlotte area to review your particular situation and determine your best option.
What if I do Not Appear in Court?
If you are being accused of a non-waivable offense in the State of North Carolina, your presence at a court hearing is required. Failure to appear at a hearing may lead to an Order for Arrest. If the court issued a Failure to Appear and an order for your arrest, you would face significant consequences, including additional criminal charges.
If you are not able to attend your upcoming court hearing, speak with a skilled lawyer to help you reschedule your hearing to avoid the penalties for failure to appear in court. Consult with our criminal defense attorneys at Arnold & Smith, PLLC, to discuss your options. Call our lawyers at Arnold & Smith, PLLC, at (704) 370-2828 to evaluate your options or fill out our contact form. Now taking cases throughout North Carolina with offices in Uptown Charlotte, Mooresville and Monroe.
The criminal defense attorneys at Arnold & Smith, PLLC make it their mission to zealously defend their clients on a wide range of criminal matters at both the state and federal levels. These matters may include any charge from traffic offenses; DWI/DUI; drug charges (from simple possession to possession with intent to distribute and trafficking); gun permit denials; weapons offenses; and property crimes (larceny, breaking and entering, robbery, fraud, embezzlement, white collar offenses); to sexually related offenses (indecent exposure; sexual assault, crimes against nature, removal from sex offender registry); and violent crimes (domestic violence; assault; manslaughter; homicide, murder). Other legal issues that Arnold & Smith, PLLC criminal clients may be facing include restraining orders, restraining order and probation violations, expungements; appeals; and immigration issues related to criminal charges. Our criminal defense attorneys are passionate about ensuring that individuals empower themselves by being informed about their constitutional rights, and stand at the ready to fight in the defense of those facing criminal charges.
Source:
https://www.arnoldsmithlaw.com/traffic-citations.html
Image Credit: 
https://www.freeimages.com/photo/gavel-1238036
See Our Related Video from our YouTube channel:
https://www.youtube.com/user/ArnoldSmithPLLC/videos
See Our Related Blog Posts: