Charlotte Criminal Lawyer Brad Smith answers the question: "What are the long term effects of being convicted of a crime?"
For millions of Americans, the right to own and operate a firearm, as established under the Second Amendment of the United States Constitution, is not something to be taken lightly. That is why, as any experienced criminal defense attorney could point out, there are over 18 million concealed weapon permits issued in the United States.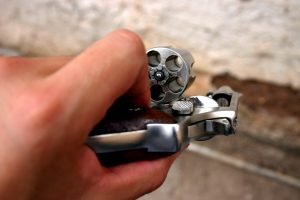 There are many reasons why an individual would want to maintain an active concealed carry permit, with safety being one of the most commonly stated motivations. When situations arise that call into question a person's use of a concealed firearm, a defendant will work with their criminal defense attorney to build a case that shows they were competent and eligible to carry a concealed firearm.
Like many states, North Carolina sets its own statewide laws regarding gun control in general and concealed carry eligibility in particular. While frequent consultation and communication with an experienced criminal defense attorney is always the best course of action, there is some general information regarding concealed carry eligibility in North Carolina that all residents should know.
Age and Residency Requirements
According to North Carolina law, an individual wishing to hold a concealed carry permit must be at least 21 years of age. In addition, the person must be a citizen of the United States or have been lawfully allowed permanent residence in the US. The person must be a resident for at least 30 days before starting the application process for a concealed carry permit.
Mental and Physical Health Requirements
While the Second Amendment is quite broad in its description of who has the right to bear arms, in today's society many states recognize that there are certain people and certain instances where holding a concealed firearm may pose a threat to the individual and others' safety. Therefore, as an experienced criminal defense attorney will point out, it is important to ensure that firearm owners can prove they are of sound mental capacity to manage the responsibility of owning a gun.
In North Carolina, concealed carry owners must not suffer from any mental or physical impairment that would impede their ability to responsibly own and operate a firearm. If the individual has a history of interactions with the law where mental health was a factor, this could bar the individual from obtaining a concealed carry license.
Legal Standing
While this may seem an obvious point to some, a criminal defense attorney will nevertheless make it clear that fugitives from justice are ineligible to own a concealed carry license in North Carolina. In addition, any previous court orders restricting the ownership of a firearm (e.g. prior domestic violence convictions) can prevent a person from obtaining a concealed carry license.
When to Contact an Attorney
When it comes to criminal defense cases involving concealed carry of a firearm, residents in North Carolina will want to work with their legal defense team to show they have the proper qualifications in accordance with state law. For years, the attorneys at Arnold & Smith, PLLC have been helping residents in Charlotte and North Carolina navigate these tricky cases. Please contact us today to get a phone, video or in-person consultation by calling at (704) 370-2828 to speak with our detail-oriented and well-versed lawyers with offices in Charlotte, Lake Norman, and Monroe, please contact Arnold & Smith, PLLC today or find additional resources here.
The criminal defense attorneys at Arnold & Smith, PLLC make it their mission to zealously defend their clients on a wide range of criminal matters at both the state and federal levels. These matters may include any charge from traffic offenses; DWI/DUI; drug charges (from simple possession to possession with intent to distribute and trafficking); gun permit denials; weapons offenses; and property crimes (larceny, breaking and entering, robbery, fraud, embezzlement, white collar offenses); to sexually related offenses (indecent exposure; sexual assault, crimes against nature, removal from sex offender registry); and violent crimes (domestic violence; assault; manslaughter; homicide, murder). Other legal issues that Arnold & Smith, PLLC criminal clients may be facing include restraining orders, restraining order and probation violations, expungements; appeals; and immigration issues related to criminal charges. Our criminal defense attorneys are passionate about ensuring that individuals empower themselves by being informed about their constitutional rights, and stand at the ready to fight in the defense of those facing criminal charges.
Source:
https://en.wikipedia.org/wiki/Concealed_carry_in_the_United_States#:~:text=As%20of%202019%20there%20have,issued%20in%20the%20United%20States.
https://statelaws.findlaw.com/north-carolina-law/north-carolina-gun-control-laws.html
Image Credit: 
https://www.freeimages.com/photo/gun-2-arma-2-1552193
See Our Related Video from our YouTube channel:
https://www.youtube.com/user/ArnoldSmithPLLC/videos
See Our Related Blog Posts: