Charlotte Criminal Lawyer Brad Smith answers the question: "What is the difference between a misdemeanor and a felony?"
The Second Amendment of the United States Constitution states that citizens have the right to bear arms. While the right to purchase and own guns is a federal right and one of the tenets of our government and society, any experienced criminal defense attorney will point out that it is important to understand your individual state laws regarding gun control.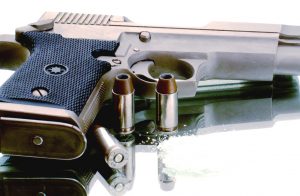 North Carolina's gun control laws are similar to other states in many respects, but there are some nuances and particulars of the law that residents should know. As is the case with many forms of law and legal proceedings, consultation with a trusted local criminal defense attorney in your area is always the preferred course of action. However, some general information on North Carolina's gun control laws could be helpful for residents.
Prohibited Firearms
Like many other states, North Carolina has determined that certain types of guns and gun accessories are for various justifications illegal for civilians to own. The state prohibits or restricts in some way residents from owning machine guns of any type, as well as sawed-off shotguns, sawed-off rifles, and silencers on pistols or other weapons.
Prohibited Owners
As previously mentioned, the Second Amendment states that all citizens have the right to own a gun. However, in our modern society, states have on the whole recognized that when citizens commit certain criminal acts or would likely pose a threat to others if they owned a gun, they forfeit their right to own a potentially dangerous firearm.
A criminal defense attorney in North Carolina should be able to readily provide a list of these restrictions. In general, the following groups of people are barred from owning a firearm in North Carolina:
Any person who has previously been convicted of a felony.
A person who has been charged with felony possession of a firearm or assault by pointing a gun, but has been acquitted by successfully pleading insanity.
A person who has committed felony possession of a firearm and/or assault by pointing a gun, thereby demonstrating they are unfit to own a gun.
Anyone with a current domestic violence order in place.
Open and Concealed Carry in North Carolina
In North Carolina, residents sometimes want to keep their firearms concealed for protection.  According to North Carolina law, residents can only conceal carry on their own premises, or when their weapon is a handgun and they have the proper concealed carry permit. Criminal defense attorneys will be quick to point out that this permit must be kept on them at all times, along with a valid form of identification and several other additional requirements that permit carriers must uphold.
In contrast to concealed carry laws in North Carolina, state residents can openly carry their firearm, and a permit is not required to open carry.
When to Contact a Legal Professional
While the basics of North Carolina's gun control laws seem somewhat straightforward at first glance, any defendant will be quick to attest to just how complicated the legal process can be when charges arise surrounding firearm ownership and use. For years, the attorneys at Arnold & Smith, PLLC have been helping residents in Charlotte and North Carolina navigate these tricky cases. Please contact us today to get a phone, video or in-person consultation by calling at (704) 370-2828 to speak with our detail-oriented and well-versed lawyers with offices in Charlotte, Lake Norman, and Monroe, please contact Arnold & Smith, PLLC today or find additional resources here.
The criminal defense attorneys at Arnold & Smith, PLLC make it their mission to zealously defend their clients on a wide range of criminal matters at both the state and federal levels. These matters may include any charge from traffic offenses; DWI/DUI; drug charges (from simple possession to possession with intent to distribute and trafficking); gun permit denials; weapons offenses; and property crimes (larceny, breaking and entering, robbery, fraud, embezzlement, white collar offenses); to sexually related offenses (indecent exposure; sexual assault, crimes against nature, removal from sex offender registry); and violent crimes (domestic violence; assault; manslaughter; homicide, murder). Other legal issues that Arnold & Smith, PLLC criminal clients may be facing include restraining orders, restraining order and probation violations, expungements; appeals; and immigration issues related to criminal charges. Our criminal defense attorneys are passionate about ensuring that individuals empower themselves by being informed about their constitutional rights, and stand at the ready to fight in the defense of those facing criminal charges.
Source:
https://statelaws.findlaw.com/north-carolina-law/north-carolina-gun-control-laws.html
Image Credit: 
https://www.freeimages.com/photo/gun-2-1427081
See Our Related Video from our YouTube channel:
https://www.youtube.com/user/ArnoldSmithPLLC/videos
See Our Related Blog Posts: