Charlotte Criminal Lawyer Brad Smith answers the question: "What are the long term effects of being convicted of a crime?"
The U.S. and North Carolina Constitutions protect your right to bear arms. However, that right does not extend to carrying a gun wherever or whenever you wish. There are instances in which you may openly carry a firearm, but North Carolina requires you to have a permit for concealed carry.
In this article, our criminal defense attorneys explain open and concealed carry gun laws in North Carolina along with the consequences of violating them:
North Carolina Concealed Carry Gun Laws
Concealed carry laws exist as a preventative measure of deadly accidents and altercations. Whether you are for or against gun control, concealed carry laws exist. In North Carolina, it is illegal to carry a concealed weapon unless you:
Have a handgun and a permit to have it, or
Are on your private property, or
Are a police officer with authorization to possess one
The above-listed items apply to both guns and dangerous weapons. Dangerous weapons may include blunt objects, stun guns, and chemicals.
Where is it Illegal to Carry a Gun in North Carolina?
Possessing a concealed carry permit is not lawful enough for some locations. More often, the restrictions apply to private, state, and federal property. North Carolina prohibits carrying concealed weapons in the following places:
Schools, universities, and sponsored events
Prison and correctional facilities
State and federal property
Private probate with concealed carry restrictions
Parades, processions, and picket lines
North Carolina statutes also prohibit concealed carry where establishments are selling alcoholic beverages. The only exception to this rule is if the weapon is a handgun and you are carrying the proper permits. However, the exception to this is that you cannot possess a concealed weapon if you have drugs or alcohol in your blood.
Illegal Possession of a Gun in North Carolina
There are certain individuals who are not permitted to carry any dangerous weapon in North Carolina. These limitations are placed on felons and anyone under a protective order. There are severe consequences for individuals who violate these laws.
Penalties for Illegal Gun Possession
The State of North Carolina charges individuals with felonies for violations of the above-described laws. However, you may face misdemeanor charges for carrying a weapon without a permit or in a prohibited location. The judge assigned to gun violation cases considers the overall criminal history of the defendant when making this determination.
Speak with an NC Criminal Defense Lawyer for Gun Carry Violations
It can be incredibly stressful to be charged with a gun carry violation. Remember that you do not have to defend yourself all alone. Hiring a criminal defense lawyer licensed in North Carolina means that you retain aggressive representation while simultaneously protecting your rights.
If law enforcement charges you with a gun violation, the team at Arnold & Smith, PLLC is available to discuss your options. We have been working with people in the Charlotte, NC area to provide the best possible defenses for many years.  If you find yourself facing criminal charges and need the help of an experienced criminal defense attorney in or around Charlotte, Lake Norman, or our new office in Monroe, please contact Arnold & Smith, PLLC today at (704) 370-2828 or find additional resources here.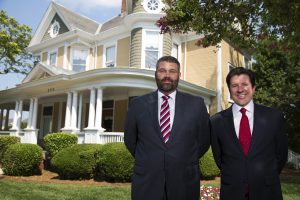 The criminal defense attorneys at Arnold & Smith, PLLC make it their mission to zealously defend their clients on a wide range of criminal matters at both the state and federal levels. These matters may include any charge from traffic offenses; DWI/DUI; drug charges (from simple possession to possession with intent to distribute and trafficking); gun permit denials; weapons offenses; and property crimes (larceny, breaking and entering, robbery, fraud, embezzlement, white collar offenses); to sexually related offenses (indecent exposure; sexual assault, crimes against nature, removal from sex offender registry); and violent crimes (domestic violence; assault; manslaughter; homicide, murder). Other legal issues that Arnold & Smith, PLLC criminal clients may be facing include restraining orders, restraining order and probation violations, expungements; appeals; and immigration issues related to criminal charges. Our criminal defense attorneys are passionate about ensuring that individuals empower themselves by being informed about their constitutional rights, and stand at the ready to fight in the defense of those facing criminal charges.
Source:
https://www.arnoldsmithlaw.com/criminal-defense.html
https://www.ncleg.net/EnactedLegislation/Statutes/HTML/BySection/Chapter_14/GS_14-269.8.html
Image Credit:
https://www.freeimages.com/photo/air-soft-gun-1-1500175
See Our Related Video from our YouTube channel:
https://www.youtube.com/user/ArnoldSmithPLLC?feature=watch
See Our Related Blog Posts: