Charlotte DWI Lawyer Brad Smith answers the question: "What am I obligated to do if I've been pulled for Drinking and Driving?"
Most of the time, a person's only interaction with law enforcement is during a routine traffic stop. It is not unusual to have a cop pull you over at least once during your lifetime, whether justified or not. Traffic violations are relatively tame on the spectrum of criminal activity, but did you know that you have certain rights in North Carolina that are inalienable no matter the circumstance?
In this article, we are going to examine some of those rights. The information provided is considered to be general, since each case is different. Speak with a criminal defense attorney in North Carolina if law enforcement violated your rights during a traffic stop.
Police Have a Right to Stop and Search Your Vehicle
In short, local and state North Carolina police officers must have a reasonable suspicion that you have violated a law to stop your vehicle. It cannot just happen arbitrarily.
If a police officer pulls you over, and subsequently has probable cause to believe you have committed a crime (he or she sees drugs and/or an open container of alcohol sitting on the passenger seat, for example) then the officer can search your vehicle or your person. That search has its legal limitations, however, and the nuances can become confusing quickly.
If you have been pulled over and had your car searched by a police officer, make sure you know your rights. If you are not sure if the search was carried out lawfully, reach out to an experienced defense attorney in North Carolina for help and to ensure that your rights to be free of unlawful search and seizure are protected.
Police Officers can Check for Weapons and Outstanding Warrants
The police are bound by certain rules, and they are unable to search anyone, anytime, for any reason. Generally speaking, the police need to have reasonable suspicion that a crime has been committed before conducting a search of your person on your car. So, when it comes to searching your body or your vehicle, police must act reasonably when:
Asking you to get out of your car
Searching your person
Checking your vehicle for contraband
The police can also search you if they have a concern for their safety. If they see something that appears to be a weapon, or if you are acting suspiciously, they may search you to eliminate that perceived threat. The police may also run your license plates and check for any outstanding warrants against you at any time, for any reason. If you believe your rights have been violated by the police, an experienced defense lawyer will be able to advise you on the best next steps.
Police Cannot Detain You Without Cause
Presuming you do not have any warrants out for your arrest, the officer will then decide what to do. The officer can issue you a ticket or a warning.
Once that is done, the traffic stop is complete. In North Carolina, as long as you have a valid driver's license, you will be allowed to leave after being pulled over for a traffic offense. You will likely be asked to sign a ticket that says you will agree to appear in traffic court.
Again, if you are not arrested during a traffic stop, then you are free to go after receiving your ticket or warning. If you have committed any other non-traffic misdemeanor or felony offense, then you will likely be arrested and detained. In this case, reach out to a criminal defense lawyer as soon as possible.
Final Thoughts and Considerations on Being Pulled Over in North Carolina
If law enforcement violates your rights during a traffic stop, the team at Arnold & Smith, PLLC is available to discuss your options. We have been working with people in the Charlotte, area to provide the best possible outcome. If you find yourself facing criminal charges and need the help of an experienced criminal defense attorney in or around Charlotte, Lake Norman, or our new office in Monroe, please contact Arnold & Smith, PLLC today at (704) 370-2828 or find additional resources here.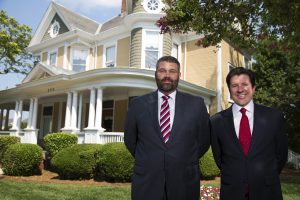 The criminal defense attorneys at Arnold & Smith, PLLC make it their mission to zealously defend their clients on a wide range of criminal matters at both the state and federal levels. These matters may include any charge from traffic offenses; DWI/DUI; drug charges (from simple possession to possession with intent to distribute and trafficking); gun permit denials; weapons offenses; and property crimes (larceny, breaking and entering, robbery, fraud, embezzlement, white collar offenses); to sexually related offenses (indecent exposure; sexual assault, crimes against nature, removal from sex offender registry); and violent crimes (domestic violence; assault; manslaughter; homicide, murder). Other legal issues that Arnold & Smith, PLLC criminal clients may be facing include restraining orders, restraining order and probation violations, expungements; appeals; and immigration issues related to criminal charges. Our criminal defense attorneys are passionate about ensuring that individuals empower themselves by being informed about their constitutional rights, and stand at the ready to fight in the defense of those facing criminal charges.
Source:
https://www.arnoldsmithlaw.com/criminal-defense.html
Image Credit:
https://www.freeimages.com/photo/canine-search-1513477
See Our Related Video from our YouTube channel:
https://www.youtube.com/user/ArnoldSmithPLLC?feature=watch
See Our Related Blog Posts: