Charlotte Criminal Lawyer Brad Smith answers the question: "Do I need to hire an attorney if I have been falsely accused?"
With more people wearing face masks amid the COVID-19 pandemic, criminals may be more emboldened by the possibility of staying unidentified when committing a crime. But does it mean that surgical face masks, which are meant to curb the spread of coronavirus, contribute to more crime in Charlotte and other parts of North Carolina?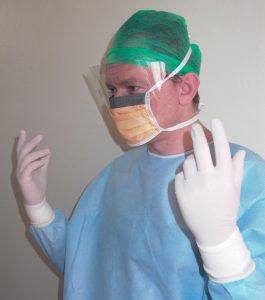 It is tough to answer this question, but it is a fact that North Carolina has seen numerous crimes committed by mask-wearing criminals. It is also true that people who cover their faces with masks or any facial coverings may feel more emboldened and empowered to do things that they would not normally do.
For a person who otherwise would not assault another individual, commit robbery, steal a vehicle, or commit any other crime, wearing a face mask could be an opportunity because they feel more protected by hiding behind a facial covering. Also, masks make it more difficult to identify those who would have committed a crime anyway.
Previously, we discussed how coronavirus impacted crime rates in Charlotte
Mask-Wearing People Commit Crimes in Charlotte, NC, During the Pandemic
Recent robberies in Charlotte serve as proof that criminals who commit crimes while wearing face masks are harder to identify. According to WBTV, the Charlotte-Mecklenburg Police Department released surveillance footage showing robberies at two southwest Charlotte businesses. The police are trying to identify two mask-wearing individuals who committed the robberies.
The two men wearing hoodies and face masks stole cash from the front counter at the Four Points by Sheraton hotel and the Xpress Mart convenience store, both located on East Woodlawn Road.
Robberies and other crimes involving suspects wearing surgical face masks and other facial coverings have been reported all across the nation during the COVID-19 pandemic.
Being anonymous and unidentified has been historically associated with deviant and criminal behavior. In fact, more than a dozen states still ban the wearing of face masks in public. These states include Virginia and Florida. The coronavirus pandemic prompted many of those states to revisit their anti-mask laws. For instance, Georgia suspended its anti-mask law amid the pandemic.
How Does the COVID-19 Pandemic Impact Charlotte's Crime Rates?
According to an analysis by Charlotte Observer, criminal reports filed by Charlotte-Mecklenburg Police decreased by 8% in March 2020 compared to March 2019 (from 8,090 to 7,479 incidents).
In fact, the department saw a dramatic decrease in criminal reports in the last two weeks of March after Mecklenburg County issued a stay-at-home order. The third week of March 2020 saw 10% fewer incidents, while the fourth week had 20% fewer crimes in the county.
Previously, we discussed whether North Carolinians could be arrested for violating the state's stay-at-home order during the pandemic.
However, the pandemic did not impact all crime rates equally. According to the report, domestic violence reports, shootings into occupied dwellings, as well as coronavirus-related scams and phishing attempts increased during the pandemic.
If you were arrested for wearing a face mask or are accused of a crime during the coronavirus pandemic, contact a Charlotte criminal defense attorney to review your situation. Let our lawyers at Arnold & Smith, PLLC, evaluate your options. Call our lawyers at Arnold & Smith, PLLC, at (704) 370-2828 to evaluate your options or fill out our contact form. Now taking cases throughout North Carolina with offices in Uptown Charlotte, Mooresville and Monroe.
The criminal defense attorneys at Arnold & Smith, PLLC make it their mission to zealously defend their clients on a wide range of criminal matters at both the state and federal levels. These matters may include any charge from traffic offenses; DWI/DUI; drug charges (from simple possession to possession with intent to distribute and trafficking); gun permit denials; weapons offenses; and property crimes (larceny, breaking and entering, robbery, fraud, embezzlement, white collar offenses); to sexually related offenses (indecent exposure; sexual assault, crimes against nature, removal from sex offender registry); and violent crimes (domestic violence; assault; manslaughter; homicide, murder). Other legal issues that Arnold & Smith, PLLC criminal clients may be facing include restraining orders, restraining order and probation violations, expungements; appeals; and immigration issues related to criminal charges. Our criminal defense attorneys are passionate about ensuring that individuals empower themselves by being informed about their constitutional rights, and stand at the ready to fight in the defense of those facing criminal charges.
Source:
https://www.wbtv.com/2020/04/15/crime-stoppers-police-trying-identify-mask-wearing-men-southwest-charlotte-robberies/
https://www.charlotteobserver.com/news/local/crime/article241737036.html
Image Credit: 
https://www.freeimages.com/photo/surgeon-2-1504760
See Our Related Video from our YouTube channel:
https://www.youtube.com/user/ArnoldSmithPLLC/videos
See Our Related Blog Posts: