Charlotte Criminal Lawyer Brad Smith answers the question: "If I have an outstanding warrant, what should I do?"
To many people, involuntary commitment in a psychiatric facility seems like the equivalent of jail when it comes to restricting your freedoms; for some, it could be considered even worse. However, the majority of the N.C. Court of Appeals feels differently, with a divided panel recently ruling that a man who was involuntarily committed after he tried to kill himself was not in custody for Miranda warning purposes.
Tae Kwon Hammonds was under 24-hour watch at Carolina Medical Center Union when two (2) law enforcement officers showed up asking to speak with him about a recent armed robbery that had taken place.
Hammonds, who was being observed around the clock, had already tried to leave the hospital at least once after a magistrate judge ordered that he be committed. Security had escorted him back to his room, where a "sitter" was assigned to monitor him constantly.
When the officers arrived, Hammonds' attending nurse gave them the go-ahead. They conversed with Hammond for about an hour and a half, during which time the sitter was present and nurses were in and out of the room, according to court testimony.
The detectives testified that the tone of the questions they asked Hammonds was "conversational" and that he never asked the officers to leave. Hammonds did, however, eventually confess to the robbery, while denying that he had a gun.
He was convicted at trial of robbery with a dangerous weapon and sentenced to between five (5) and seven (7) years in prison. On appeal, however, Hammonds argued that the confession he gave at CMCU was involuntary because he was in custody and should have received his Miranda warnings.
We've talked about Miranda warnings on this blog before in the past, but they are key rights and always worth a refresher.
Miranda warnings, named after the defendant whose case originally made them mandatory in certain situations, are something most people can rattle off at least parts of thanks to Law and Order reruns.
The warnings inform a person of their basic constitutional rights as they are being taken into the custody of law enforcement—the right to remain silent and not incriminate yourself; an attorney, free of charge if you cannot afford your own; the right to have that attorney present during police questioning while you are in custody.
While the warnings themselves are easy enough to recite, knowing when it applies is far more difficult. Courts have been addressing the issue almost constantly in the years since the original Miranda case.
Considering the "totality of the circumstances," factors the courts examine in determining whether or not an interaction with law enforcement qualifies as "custodial" sufficient to trigger Miranda include:
How many officers were present during questioning? This question goes to the level of intimidation present during the interview. The more officers present, the more likely a court may be to find the setting coercive.
Who else was present? Again, this goes to the level of intimidation. If a person is answering police questions while surrounded by family or friends, a court may find the situation less coercive.
Where did the questioning occur? Did the suspect feel free to refuse to go there or leave? This goes to how familiar or coercive a setting may be to the suspect. An interview at the person's home, for example, would likely be less intimidating than one conducted at the police station.

However, courts have held that a person's being incarcerated neither automatically entitles them to, nor removes their right to Miranda In other words, incarceration is not dispositive of whether or not jail or prison officers have to Mirandize you before asking you questions about crimes unrelated to your current incarceration.

To what extent was the person's freedom of movement restricted during questioning? Once again, this goes to the level of coerciveness and intimidation that may have been present. If the questioning takes place while the suspect is in the back cage of a police cruiser, this could be much more coercive than an interview conducted from the sidewalk.
What was the style of questioning? Routine or accusatory? Was the suspect free to refuse to answer questions? Questions asked in an accusatory or threatening manner can indicate a custodial situation.
Because of the previous case law allowing the questioning of an incarcerated person without Miranda warnings in some circumstances, the Court of Appeals in Hammonds' case was reluctant to establish a rule that involuntary commitment amounts to custody. The majority opinion reasoned that such a rule could provide incarcerated suspects with more protection than their non-imprisoned counterparts.
If you or someone you know has been charged with a crime, please contact the experienced criminal defense attorneys at Arnold & Smith, PLLC. Our attorneys stand at the ready to defend you against state or federal charges. Please contact Arnold & Smith, PLLC today at (704) 370-2828   or find additional resources here.
About the Author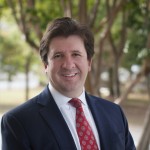 Brad Smith is a Managing Member of Arnold & Smith, PLLC, where he focuses on the areas of criminal defense, DUI / DWI defense and traffic defense.
Mr. Smith was born and raised in Charlotte. He began his legal career as an Assistant District Attorney before entering private practice in 2006.
In his free time, Mr. Smith enjoys traveling, boating, golf, hiking and spending time with his wife and three children.
Sources:
http://nclawyersweekly.com/2015/11/06/involuntary-commitment-not-custody-for-miranda/
Image Credit:
https://commons.wikimedia.org/wiki/File:Upstate_Carolina_Medical_Center.jpg
See Our Related Video from our YouTube channel:
https://www.youtube.com/user/ArnoldSmithPLLC?feature=watch
See Our Related Blog Posts: