Charlotte Criminal Lawyer Brad Smith answers the question: "If I have an outstanding warrant, what should I do?"
RICO stands for the Racketeer Influenced and Corrupt Organizations Act, a federal law created in the 1970s to fight organized crime. Law enforcement agencies devote extensive resources to prosecute and convict individuals who take part in organized crime schemes.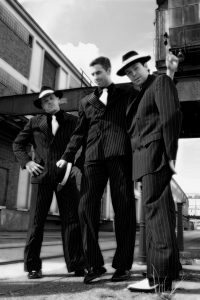 If you are facing RICO charges or a federal investigation is underway, do not hesitate to contact an experienced criminal defense lawyer to develop a winning strategy in your case. Here at Arnold & Smith, PLLC, our criminal defense attorneys will prepare the best defense strategy for you.
Street Gang Members Sentenced on RICO Charges in Charlotte
As reported by WBTV, several members of the United Blood Nation, also known as UBN or Blood, were sentenced to prison on RICO charges in Charlotte. Prison sentences ranged from 25 years to life imprisonment. Five members of the street gang were sentenced on federal RICO conspiracy and other charges. Three of the members were sentenced to life.
While RICO charges are often prosecuted on the federal level, North Carolina has state laws that make racketeering a crime. Under the North Carolina General Statutes 75D, "pattern of racketeering activity" means that a criminal organization engages in at least two incidents of racketeering that are "interrelated by distinguishing characteristics."
Who Can Be Charged with Racketeering?
RICO allows prosecutors to charge multiple members of a criminal enterprise for offenses without having to demonstrate evidence that they personally committed a crime. Under federal law, you can be charged with racketeering or organized crime for engaging in a pattern of racketeering activity associated with a street gang or any other criminal organization.
In other words, you can face charges even if you did not carry out the specific offense yourself.
What is Racketeering Under the RICO Act?
The word "racketeering" encompasses a wide variety of offenses, including but not limited to:
Kidnapping
Murder
Robbery
Gambling
Drug trafficking
Human trafficking
Embezzlement
Counterfeiting
Money laundering
Securities or bankruptcy fraud
Financial institution fraud
Acts of terrorism
To qualify for RICO charges, the defendant must have at least two incidents of racketeering activity.
Defenses to RICO Charges
To be convicted of RICO, the prosecution must prove beyond a reasonable doubt that the defendant is guilty of the crime. If you are under federal investigation for racketeering, a knowledgeable criminal defense lawyer will help you identify the best defense strategy to fight against the charges in your particular situation.
Common defenses to RICO charges include:
Mistaken identity
No pattern of racketeering activity
No criminal organization directed the criminal activity
The group of people (defendants) investigated for RICO violations are a loose association of individuals, not a criminal enterprise
You cannot be convicted of RICO if the prosecution cannot prove beyond a reasonable doubt that a criminal enterprise ordered or directed criminal activity. It is important to contact a Charlotte criminal defense lawyer if you are being investigated for a RICO violation, no matter how absurd the accusations may be. RICO is a federal criminal offense that could result in many years in prison and thousands of dollars in fines.
Contact the criminal defense attorneys at Arnold & Smith, PLLC to evaluate your particular case and develop a solid defense strategy for you. Call our lawyers at Arnold & Smith, PLLC, at (704) 370-2828 to evaluate your options or fill out our contact form. Now taking cases throughout North Carolina with offices in Uptown Charlotte, Mooresville and Monroe.
The criminal defense attorneys at Arnold & Smith, PLLC make it their mission to zealously defend their clients on a wide range of criminal matters at both the state and federal levels. These matters may include any charge from traffic offenses; DWI/DUI; drug charges (from simple possession to possession with intent to distribute and trafficking); gun permit denials; weapons offenses; and property crimes (larceny, breaking and entering, robbery, fraud, embezzlement, white collar offenses); to sexually related offenses (indecent exposure; sexual assault, crimes against nature, removal from sex offender registry); and violent crimes (domestic violence; assault; manslaughter; homicide, murder). Other legal issues that Arnold & Smith, PLLC criminal clients may be facing include restraining orders, restraining order and probation violations, expungements; appeals; and immigration issues related to criminal charges. Our criminal defense attorneys are passionate about ensuring that individuals empower themselves by being informed about their constitutional rights, and stand at the ready to fight in the defense of those facing criminal charges.
Source:
https://www.wbtv.com/2020/10/27/blood-gang-members-sentenced-years-life-prison-rico-charges-charlotte/
https://www.ncleg.net/EnactedLegislation/Statutes/PDF/ByChapter/Chapter_75D.pdf
Image Credit: 
https://www.freeimages.com/photo/gangster-2-1568324
See Our Related Video from our YouTube channel:
https://www.youtube.com/user/ArnoldSmithPLLC/videos
See Our Related Blog Posts: