Charlotte Criminal Lawyer Brad Smith answers the question: "What should parents tell their children to do when interacting with police officers?"
The Supreme Court this week issued a ruling that many experts believe cleared the way for criminal action against the international soccer organization FIFA. In its ruling, the Supreme Court said that the government is able, in certain cases, to bring charges involving international criminality in the U.S. judicial system using the RICO Act. The Court wrote that RICO is one of the rare and powerful statutes that allow for this kind of extraterritorial jurisdiction. To learn more about the RICO Act and how it is used to prosecute crimes, keep reading.
What is the RICO Act?
Formally, RICO refers to the Racketeer Influenced and Corrupt Organizations Act. The Act appears in Title 18 of the United States Code. The law was first passed by Congress in the 1970s, but took years before it was enforced by prosecutors. The law was created during a time when organized crime was running rampant and prosecutors had no way of charging the masterminds of the activity because they could not be directly connected to the specific criminal actions. The RICO Act changed all that and allowed people who are connected to organized crime or other criminal activity to be charged with a crime.
To be charged with a violation of the RICO Act, prosecutors don't need to show that you personally committed a crime, but can instead show that you engaged in a pattern of racketeering activity connected to a criminal enterprise.
Why is the RICO Act so often used by prosecutors?
Today, it's very rare that the RICO Act is used against members of the Mafia. Instead, its broad language allows prosecutors to use RICO as a tool against those involved in all sorts of illegal activity. The RICO Act defines "racketeering" very broadly, including 35 separate offenses as possible examples. These include things like murder, kidnapping, drug dealing and bribery. Importantly, things like mail and wire fraud are also included on the list, which allow the statute to be applied to far more groups than many people might ordinarily think of as criminal organizations.
Prosecutors love the RICO Act because it allows them to hold individuals responsible for criminal acts of other members of the same organization, meaning you can be convicted without actually having done anything wrong yourself. RICO charges are often used as a tool for prosecutors, a way of bringing in multiple defendants and then using RICO as a bargaining chip to force defendants to testify against one another in exchange for a lighter sentence.
What is the possible punishment for violating the RICO Act?
A conviction for a violation of the RICO Act carries stiff financial and criminal penalties. Each violation can result in fines of up to $25,000 and up to 10 years in federal prison. These penalties apply to each count, and prosecutors often charge multiple counts of RICO violations per defendant. It's also important to note that penalties associated with RICO violations are in addition to penalties associated with the underlying crimes.
If you or someone you love has been charged with a crime, please contact the experienced criminal defense attorneys at Arnold & Smith, PLLC. Our attorneys stand at the ready to defend you against state or federal charges. Please contact Arnold & Smith, PLLC today at (704) 370-2828   or find additional resources here.
About the Author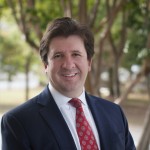 Brad Smith is a Managing Member of Arnold & Smith, PLLC, where he focuses on the areas of criminal defense, DUI / DWI defense and traffic defense.
Mr. Smith was born and raised in Charlotte. He began his legal career as an Assistant District Attorney before entering private practice in 2006.
In his free time, Mr. Smith enjoys traveling, boating, golf, hiking and spending time with his wife and three children.
Sources:
http://blogs.wsj.com/riskandcompliance/2016/06/23/supreme-court-rico-ruling-bolsters-criminal-case-against-fifa/
Image Credit:
http://www.freeimages.com/photo/still-life-poker-1529806
See Our Related Video from our YouTube channel:
https://www.youtube.com/user/ArnoldSmithPLLC?feature=watch
See Our Related Blog Posts: