Charlotte Criminal Lawyer Brad Smith answers the question: "What are the long term effects of being convicted of a crime?"
Driving a car is a fairly enjoyable activity that most of us do to save time and avoid using crowded public transportation. However, nobody has ever promised that being behind the wheel was going to be an easy or safe thing. Like everything in life, it comes with risks.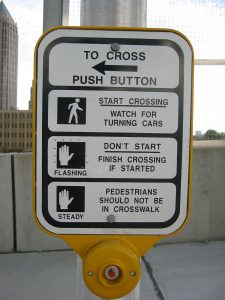 One of the major downsides of driving a car is that it puts the physical integrity of the driver and third parties at risk of serious injury. If you are in such an accident involving a pedestrian, and you were behind the wheel, you should be careful what to do next — as doing the wrong thing can result in serious penalties.
What Should You Do if You Hit a Pedestrian?
Hitting a pedestrian is arguably one of the worst things that can happen when driving. When such an incident occurs, the first actions taken are the most important. We must know what to do because if we take a wrong step or act inappropriately, we could make the whole situation worse quickly.
The first and most important thing we must do is stay in the place where the events occurred. Otherwise, your absence may have serious legal consequences for you, and you may get charged with a "hit-and-run." If you are able to do so, and you have first-aid knowledge, then you can try to give medical attention if the person is injured.
However, always call 911 first, and then — only if you are trained — you can give the injured person first aid, or find someone who can assist you.
How to Avoid Potential Additional Legal Problems
The following are some tips for what to do in the aftermath of a pedestrian accident, especially if you are at fault for having caused it.
Do not attempt to flee the site of the accident. You must remain at the site until the other party and the police have exchanged information.
Do not throw away any or try to conceal any evidence. Everything that could be related to the accident or injury should be kept as evidence.
Work with all law enforcement and emergency personnel. Interrupting their job can only make matters worse, further exacerbating any injuries.
Do not talk to anyone about the accident. Be cautious what you say at the accident site. Unless it is your attorney, do not share the details of the accident with anybody thereafter.
Legal Consequences if the Pedestrian is Killed
In this type of accident, when there is a death that is ruled as a homicide, it can be punishable by eight to 20 years in prison. This can vary depending on the circumstances of the accident. When there are aggravating circumstances, the situation can worsen, such as when the at-fault driver was driving under the influence of alcohol or drugs. In such cases, the penalty can be greatly increased.
Have You Hit a Pedestrian in North Carolina?
If you find yourself in a situation similar to this, it is very important that you stay on the scene. If you flee the scene, you can be legally charged with hit-and-run. No matter what, though, it is important to seek legal counsel following such an incident.
We here at Arnold & Smith, PLLC understand the charges that can arise following a vehicle and pedestrian accident. Our team of criminal law attorneys can help guide you through the process to better understand your rights following such a charge. Please contact us today to get a phone, video or in-person consultation by calling at (704) 370-2828 to speak with our detail-oriented and well-versed lawyers with offices in Charlotte, Lake Norman, and Monroe, please contact Arnold & Smith, PLLC today or find additional resources here.
The criminal defense attorneys at Arnold & Smith, PLLC make it their mission to zealously defend their clients on a wide range of criminal matters at both the state and federal levels. These matters may include any charge from traffic offenses; DWI/DUI; drug charges (from simple possession to possession with intent to distribute and trafficking); gun permit denials; weapons offenses; and property crimes (larceny, breaking and entering, robbery, fraud, embezzlement, white collar offenses); to sexually related offenses (indecent exposure; sexual assault, crimes against nature, removal from sex offender registry); and violent crimes (domestic violence; assault; manslaughter; homicide, murder). Other legal issues that Arnold & Smith, PLLC criminal clients may be facing include restraining orders, restraining order and probation violations, expungements; appeals; and immigration issues related to criminal charges. Our criminal defense attorneys are passionate about ensuring that individuals empower themselves by being informed about their constitutional rights, and stand at the ready to fight in the defense of those facing criminal charges.
Source:
https://www.cdc.gov/transportationsafety/pedestrian_safety/index.html
https://www.sog.unc.edu/blogs/nc-criminal-law/hit-and-run
https://www.redcross.org/take-a-class/first-aid
https://www.ncdps.gov/our-organization/law-enforcement/state-highway-patrol/faq/driving-while-impaired
Image Credit: 
https://www.freeimages.com/photo/cross-button-1424014
See Our Related Video from our YouTube channel:
https://www.youtube.com/user/ArnoldSmithPLLC/videos
See Our Related Blog Posts: