J. Bradley Smith of Arnold & Smith, PLLC answers the question "If I have an outstanding warrant, what should I do?"
Many defendants in criminal cases may find coming to the county courthouse for mandatory court appearances to be an unpleasant experience in the company of unpleasant people. Criminal defense attorneys visit courthouses every day, so we are very much in tune with the procedures—and personalities—of courthouses and courthouse staff.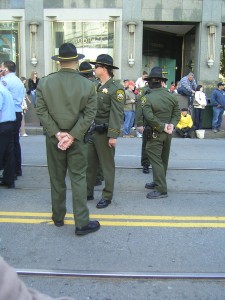 Although, technically speaking, we are "officers of the court," we are subject to many of the same processes to which the general public and criminal defendants are subject. In theory and sometimes in practice, attorneys have the credentials to bypass security checks at the entrances to courthouses, but many times it is easier and more expeditious to just go through security than to try to explain to an officer why one should not have to take one's belt and shoes off and pass through a metal detector.
Attorneys who do not appear in court very often or who are handling a case in a county for a first time may be asked by deputies stationed in courtrooms to produce identification. All of this is done to protect courtroom staff—judges, prosecutors and clerks—as well as jurors, defendants and the public.
While spending time in the company of dozens of armed guardians may not meet the definition of "pleasant," an incident in a Charlotte courtroom on Tuesday underscores why officers are understandably wary of nearly every face they see entering a courthouse and courtroom.