J. Bradley Smith of Arnold & Smith, PLLC answers the question "What is the difference between a misdemeanor and a felony?"
Like other criminal defense attorneys, I would almost never recommend that a defendant waive one's right to a jury trial.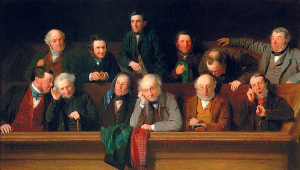 Until last week, defendants in North Carolina could not be convicted of a felony but upon unanimous verdict of a jury of one's peers. Now that right has been diluted, and criminal defendants have a new right: the right to waive their rights.
For the second time in two years, voters in the Tar Heel State have amended North Carolina's State Constitution. Earlier this year, a pair of federal court judges struck down a 2012 state constitutional amendment banning same-sex marriage.
This time around, voters in the Old North State narrowly passed a state constitutional amendment that will enable defendants in criminal superior matters to waive jury trials.
Article I, Section 24 of the Constitution of North Carolina will now read: