Charlotte Criminal Lawyer Brad Smith answers the question: "The person that called the police doesn't want to press charges, can I still be prosecuted?"
Generally, when people get divorced or legally separated, one of the spouses will leave the marital home. Often, the spouse who leaves is prohibited from returning home either while the divorce is pending or forever.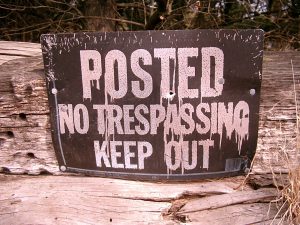 In fact, a spouse who returns to the marital house without permission can be charged with domestic criminal trespass in North Carolina. You can face the criminal charge if you remain or return to the family home despite being ordered to stay away or leave.
If you have been charged with domestic criminal trespass, schedule a consultation with a Charlotte trespassing defense lawyer to discuss your options.
When Can I be Charged With Domestic Criminal Trespass?
According to North Carolina Gen. Stat. § 14-134.3, you can be charged with domestic criminal trespass when you enter a home or another property occupied by an ex-spouse or a person with whom you lived together as a married couple without their permission.
This is a rather broad definition of a crime. To be more specific, you can face domestic criminal trespass charges if the prosecutor has evidence to prove that the former spouses or partners have lived separately and apart:
A court order of separation
A protective order or another court order requiring the defendant to keep a certain distance from the accuser
Evidence that the parties agreed to separate or live apart
Other kinds of evidence to establish that the parties have lived separately
In fact, you can be charged with domestic criminal trespass in North Carolina even if you are the owner of the property or your belongings are left in the family home.
Thus, if you leave a marital home and then decide to return without the occupying person's permission, you may face domestic criminal trespass charges.
What are the Penalties for Domestic Criminal Trespass in North Carolina?
The penalties for domestic criminal trespass depend on the unique circumstances of your case. In most cases, domestic criminal trespass is charged as a Class 1 misdemeanor if the accused enters or remains on the property occupied by the accuser after being ordered to leave.
The defendant could be charged with Class 1 misdemeanor if the property was once shared between them and the accuser.
However, if the defendant enters the property with a deadly weapon and the accuser is a victim of domestic violence, the criminal offense is considered a Class G felony. A deadly weapon is any weapon that could be used to cause death, including blunt objects, knives, firearms, and others.
If the defendant enters the property in violation of a protective order, they may face criminal charges for both the violation of the order and domestic criminal trespass.
Do not hesitate to contact a criminal defense lawyer if you are facing domestic criminal trespass charges in North Carolina. The charge should not be taken lightly as it could result in severe penalties.
Our attorneys at Arnold & Smith, PLLC, can help. Get a phone, video or in-person consultation by calling at (704) 370-2828 to speak with our detail-oriented and well-versed lawyers with offices in Charlotte, Lake Norman, and Monroe, please contact Arnold & Smith, PLLC today or find additional resources here.
The criminal defense attorneys at Arnold & Smith, PLLC make it their mission to zealously defend their clients on a wide range of criminal matters at both the state and federal levels. These matters may include any charge from traffic offenses; DWI/DUI; drug charges (from simple possession to possession with intent to distribute and trafficking); gun permit denials; weapons offenses; and property crimes (larceny, breaking and entering, robbery, fraud, embezzlement, white collar offenses); to sexually related offenses (indecent exposure; sexual assault, crimes against nature, removal from sex offender registry); and violent crimes (domestic violence; assault; manslaughter; homicide, murder). Other legal issues that Arnold & Smith, PLLC criminal clients may be facing include restraining orders, restraining order and probation violations, expungements; appeals; and immigration issues related to criminal charges. Our criminal defense attorneys are passionate about ensuring that individuals empower themselves by being informed about their constitutional rights, and stand at the ready to fight in the defense of those facing criminal charges.
Source:
https://www.ncleg.net/enactedlegislation/statutes/html/bysection/chapter_14/gs_14-134.3.html
Image Credit: 
https://www.freeimages.com/photo/no-tresspassing-1256846
See Our Related Video from our YouTube channel:
https://www.youtube.com/user/ArnoldSmithPLLC/videos
See Our Related Blog Posts: