Charlotte Criminal Lawyer Brad Smith answers the question: "Can I be arrested without evidence against me?"
In North Carolina, drivers who leave the scene of a car accident can face criminal charges for a hit-and-run. The consequences of a hit-and-run conviction in North Carolina depend on whether the crime is classified as a felony or a misdemeanor.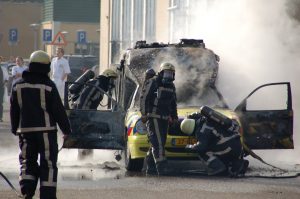 Generally, drivers convicted of a crime after leaving the scene of a motor vehicle crash may face a suspension of the driver's license and even jail time.
Given the severe punishment for failing to stop at the scene of an accident, it is advisable to contact a criminal defense attorney if you have been charged with hit-and-run in North Carolina.
What is a Hit-and-Run in North Carolina?
A hit-and-run is failing to stop your vehicle at the scene of a car accident. Under N.C. Gen. Stat. § 20-166, North Carolina drivers have a legal duty to:
Stop their vehicle immediately after being involved in a car accident; and
Remain at the scene until a law enforcement officer conducts an investigation.
While waiting for the police at the scene of the crash, you must exchange contact information with everyone involved in the collision. In addition, if anyone has been hurt, you must call for emergency medical care.
What Penalties Can You Face for a Hit-and-Run in North Carolina?
The punishment for fleeing the scene of a car accident depends on whether the offense is charged as a misdemeanor or felony in North Carolina. A hit-and-run can be charged as either a misdemeanor or felony depending on:
The circumstances of the accident;
Whether anyone was hurt or killed; and
Your criminal record.
Misdemeanor Hit-and-Run
Most hit-and-runs in North Carolina are classified as a Class 1 misdemeanor. You can face misdemeanor hit-and-run charges when any of the following is true:
You caused minor bodily injury or property damage to other people involved; or
You leave the scene of an accident that only caused property damage.
Misdemeanor hit-and-run is punishable by fines and a jail sentence not exceeding 120 days.
Felony Hit-and-Run
You can face felony charges for leaving the scene of an accident if you cause:
Injury (Class H felony; from four to 25 months in jail, fines, and a driver's license suspension)
Serious injury or death (Class F felony; from 10 to 41 months in jail, fines, and a driver's license suspension)
For the purposes of sentencing, an injury is considered "serious" when it:
Carries a significant risk of death;
Causes permanent pain or disfigurement; or
Requires lengthy hospitalization.
What are the Possible Defenses to Hit-and-Run Charges?
Just because you have been charged with a hit-and-run in North Carolina does not necessarily mean that you will be convicted. You may still have a chance to get the charges dismissed or reduced.
To fight against hit-and-run charges, you need to consult with a skilled criminal defense lawyer to choose an appropriate defense strategy which may include:
You did not know that you were involved in an accident;
You did not know that the accident resulted in property damage or injury;
You are not the one who was involved in the accident (mistaken identity); or
You wanted to leave the scene in order to get emergency help.
There may be other defenses to hit-and-run charges depending on the circumstances of your accident. Consult with North Carolina criminal defense lawyers at Arnold & Smith, PLLC, to identify possible defenses in your unique case. Get a phone, video or in-person consultation by calling at (704) 370-2828 to speak with our detail-oriented and well-versed lawyers with offices in Charlotte, Lake Norman, and Monroe, please contact Arnold & Smith, PLLC today or find additional resources here.
The criminal defense attorneys at Arnold & Smith, PLLC make it their mission to zealously defend their clients on a wide range of criminal matters at both the state and federal levels. These matters may include any charge from traffic offenses; DWI/DUI; drug charges (from simple possession to possession with intent to distribute and trafficking); gun permit denials; weapons offenses; and property crimes (larceny, breaking and entering, robbery, fraud, embezzlement, white collar offenses); to sexually related offenses (indecent exposure; sexual assault, crimes against nature, removal from sex offender registry); and violent crimes (domestic violence; assault; manslaughter; homicide, murder). Other legal issues that Arnold & Smith, PLLC criminal clients may be facing include restraining orders, restraining order and probation violations, expungements; appeals; and immigration issues related to criminal charges. Our criminal defense attorneys are passionate about ensuring that individuals empower themselves by being informed about their constitutional rights, and stand at the ready to fight in the defense of those facing criminal charges.
Source:
https://www.ncleg.net/EnactedLegislation/Statutes/HTML/BySection/Chapter_20/GS_20-166.html
Image Credit: 
https://www.freeimages.com/photo/burning-ambulance-1398173
See Our Related Video from our YouTube channel:
https://www.youtube.com/user/ArnoldSmithPLLC/videos
See Our Related Blog Posts: