Charlotte Criminal Lawyer Brad Smith answers the question: "Should I ever plead guilty to a charge?"
Looting is almost synonymous with protests. This was evident during the recent protests over the killing of a black man in Minneapolis, Minnesota. As reported by Fox News, eight people were charged in connection with looting and trespassing while protesting in Raleigh, North Carolina.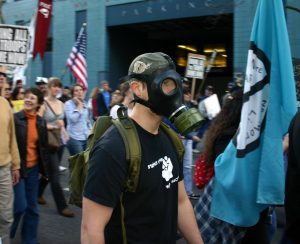 North Carolina is one of few states that have a specific statute for the crime of looting. The recent incidents allegedly took place at Midtown shopping center and several stores near Triangle Town Center during the protest over George Floyd's death.
These were not the only arrests made during the protests. The police arrested over 30 people in three days. The charges ranged from looting and trespassing to resisting arrest and burglary.
The Crime of Looting and Trespassing in North Carolina
Only a handful of states have laws that specifically address looting, and North Carolina is one of them. Looting occurs not only during protests, but also during natural disasters such as hurricanes, tornadoes, flooding, or earthquakes. Wikipedia defines looting as the taking of someone else's goods by force during a natural disaster, war, or rioting.
In North Carolina's criminal law, looting and trespassing are interconnected. NC General Statutes § 14 288.6 is comprised of two paragraphs addressing looting and trespassing during an emergency:
A person who enters someone else's property without legal justification during or in the aftermath of an emergency (protest, riot, flooding, hurricane, etc.) when the property's "usual security" is not effective can be charged with a Class 1 misdemeanor of trespass during an emergency; and
A person who trespasses during an emergency and, without legal justification, ransacks, steals, damages, takes or otherwise exerts control over someone else's property can be charged with a Class H felony of looting.
Defenses to Trespassing in North Carolina
There are several criminal defense strategies to defend yourself against trespassing charges in North Carolina, including:
Consent. If you obtained consent to enter the property during a protest, the fact that you entered or stayed on the property is not trespassing. You can obtain the property owner's consent through words, written permission, actions, or even silence or lack of action (as long as another reasonably prudent property owner would have given their consent under similar circumstances).
Reclaiming property. You cannot be charged with the crime of trespassing if you enter the property with the intention to reclaim or recover your own property. The deprivation of the property that rightfully belongs to you can be caused by either the property owner's fault or a natural disaster such as a hurricane.
Protecting the public. A valid defense is also when you have to trespass in order to protect another person or persons during an emergency. However, you must prove that there was an immediate necessity to enter someone else's property without their consent. A knowledgeable criminal defense attorney may be able to help you prove that you had to enter the property in good faith to protect public safety. However, the defense may not be valid if you start looting or the trespass is unreasonable for any other reason.
Protecting yourself or the property. You may also be able to argue that you had to commit the trespass due to private necessity during a protest. You must prove that your intention was to protect yourself from serious bodily injury or death or protect the property from destruction (injury to property).
Defenses to Looting in North Carolina
With a skilled criminal defense lawyer by your side, it may be quite difficult to convict you of looting in North Carolina. After all, the prosecution must obtain reliable evidence to prove the crime of looting during a protest, not to mention that you may have a legitimate reason for looting (for instance, public or private necessity).
Depending on the circumstances in your particular case, the following defenses to looting may be applicable:
Mistaken identity;
The search or seizure is deemed unlawful, or the police failed to follow due process; or
You had no intention to loot.
If you were arrested while protesting in Charlotte or other parts of North Carolina, consult with our criminal defense attorneys at Arnold & Smith, PLLC, to discuss your particular situation. Let our goal-oriented lawyers help you build a compelling defense strategy. Contact Arnold & Smith, PLLC, to get legal advice and build a criminal defense strategy. Call our lawyers at Arnold & Smith, PLLC, at (704) 370-2828 to evaluate your options or fill out our contact form. Now taking cases throughout North Carolina with offices in Uptown Charlotte, Mooresville and Monroe.
The criminal defense attorneys at Arnold & Smith, PLLC make it their mission to zealously defend their clients on a wide range of criminal matters at both the state and federal levels. These matters may include any charge from traffic offenses; DWI/DUI; drug charges (from simple possession to possession with intent to distribute and trafficking); gun permit denials; weapons offenses; and property crimes (larceny, breaking and entering, robbery, fraud, embezzlement, white collar offenses); to sexually related offenses (indecent exposure; sexual assault, crimes against nature, removal from sex offender registry); and violent crimes (domestic violence; assault; manslaughter; homicide, murder). Other legal issues that Arnold & Smith, PLLC criminal clients may be facing include restraining orders, restraining order and probation violations, expungements; appeals; and immigration issues related to criminal charges. Our criminal defense attorneys are passionate about ensuring that individuals empower themselves by being informed about their constitutional rights, and stand at the ready to fight in the defense of those facing criminal charges.
Source:
https://www.foxnews.com/us/north-carolina-men-arrested-looting-rioting-express-riot
https://en.wikipedia.org/wiki/Looting
https://law.justia.com/codes/north-carolina/2005/chapter_14/gs_14-288.6.html
Image Credit: 
https://www.freeimages.com/photo/protest-series-1-1316126
See Our Related Video from our YouTube channel:
https://www.youtube.com/user/ArnoldSmithPLLC/videos
See Our Related Blog Posts: