Charlotte Criminal Lawyer Brad Smith answers the question: "Can I be arrested without evidence against me?"
Several cities in North Carolina enacted a curfew in response to protests over the killing of George Floyd. In Charlotte, 30 people were arrested during the second night of protests, according to WBTV.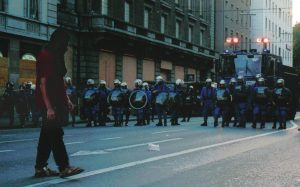 Can protesters be arrested and charged with a crime for protesting in Charlotte or other parts of North Carolina? In this blog post, we are going to discuss when and how protesters can face criminal charges while protesting in North Carolina.
Are Protests Illegal in North Carolina?
Generally, protests are not illegal in North Carolina. The right of the people "peaceably to assemble" is protected by the First Amendment, and so is the right to petition the authorities "for a redress of grievances."
However, those rights have their limitations, and federal, state, or local authorities may impose legal limits on the place, time, and the nature of protests. Also, it is possible for protesters to cross legal boundaries and commit crimes while protesting. However, demonstrators cannot be arrested and charged with a crime for merely protesting.
Protesters can be Arrested for Committing Crimes
While the Constitution protects the right to assemble and protest, some states sought to turn any acts of civil disobedience into acts of terrorism. North Carolina is one of those states. According to the Los Angeles Times, the state's lawmakers previously introduced a bill that would allow law enforcement to prosecute those who commit obstruction in an attempt to "influence government action."
However, protesters can do certain acts that could get them in trouble with the law. Although protesting is not unlawful in North Carolina, acts done during a protest are not legal if they are otherwise illegal under federal or state criminal law. Thus, protesters in Charlotte and other parts of North Carolina can be arrested for committing the following crimes while protesting:
Assault. Under North Carolina's General Statutes 14-33, a protester can face misdemeanor or felony charges for assaulting another protester or bystander during a protest.
Damaging property. NC GS 14-127 makes it a Class 1 misdemeanor to cause damage to real property.
Disorderly conduct. Under NC GS 14-288.4, anyone who acts in a way that "creates the threat of imminent violence" or uses abusive language in an attempt to "provoke violent retaliation" can be charged with a Class 2 misdemeanor.
Obstructing traffic. Doing anything willfully, including standing on a highway or street, in a manner that interferes with the regular flow of traffic is a Class 2 misdemeanor under NC GS 20-171.4.
Trespassing. Under NC GS 14-159.13, a person can be charged with a Class 3 misdemeanor for entering or remaining on someone else's premises after being ordered not to enter or remain there by the property owner or another authorized person.
Curfew violations. As multiple cities across North Carolina imposed curfews in response to recent protests, individuals can be arrested for violating the curfew.
Permit violations. Often, local governments impose a permit requirement on persons who want to protest or hold a parade, rally, or march. Failure to comply with the permit requirements may lead to criminal charges.
Failing to disperse. Under NC GS 14-288.5, protesters can face Class 2 misdemeanor charges for refusing to disperse as ordered by law enforcement when a riot or disorderly conduct occurs.
If you were arrested while protesting in Charlotte or other parts of North Carolina, consult with our criminal defense attorneys at Arnold & Smith, PLLC, to discuss your particular situation. Let our goal-oriented lawyers help you build a compelling defense strategy. Contact Arnold & Smith, PLLC, to get legal advice and build a criminal defense strategy. Call our lawyers at Arnold & Smith, PLLC, at (704) 370-2828 to evaluate your options or fill out our contact form. Now taking cases throughout North Carolina with offices in Uptown Charlotte, Mooresville and Monroe.
The criminal defense attorneys at Arnold & Smith, PLLC make it their mission to zealously defend their clients on a wide range of criminal matters at both the state and federal levels. These matters may include any charge from traffic offenses; DWI/DUI; drug charges (from simple possession to possession with intent to distribute and trafficking); gun permit denials; weapons offenses; and property crimes (larceny, breaking and entering, robbery, fraud, embezzlement, white collar offenses); to sexually related offenses (indecent exposure; sexual assault, crimes against nature, removal from sex offender registry); and violent crimes (domestic violence; assault; manslaughter; homicide, murder). Other legal issues that Arnold & Smith, PLLC criminal clients may be facing include restraining orders, restraining order and probation violations, expungements; appeals; and immigration issues related to criminal charges. Our criminal defense attorneys are passionate about ensuring that individuals empower themselves by being informed about their constitutional rights, and stand at the ready to fight in the defense of those facing criminal charges.
Source:
https://www.wbtv.com/2020/05/31/least-arrested-police-injured-businesses-damaged-during-second-night-protests-charlotte/
https://www.latimes.com/opinion/story/2020-06-02/right-to-protest
Image Credit: 
https://www.freeimages.com/photo/lone-protestor-1471494
See Our Related Video from our YouTube channel:
https://www.youtube.com/user/ArnoldSmithPLLC/videos
See Our Related Blog Posts: