Charlotte Criminal Lawyer Brad Smith answers the question: "What is the difference between a misdemeanor and a felony?"
A man was arrested in Charlotte and charged with one count of assault with a deadly weapon, but what does it mean in North Carolina?
As reported by WFMY News 2, a man went on a shooting spree across North Carolina on September 25. Police arrested two men after a series of crimes that spread from Thomasville to High Point and ended in Charlotte.
A Charlotte criminal defense attorney at Arnold & Smith, PLLC can help if you are being accused or were charged with a crime. Our lawyers are aggressive litigators who are well-versed in court procedures and criminal defense strategies in North Carolina.
Shooting Spree in Thomasville, High Point, and Charlotte
The crime occurred at the Thomasville Inn located on 407 National Highway where a 44-year-old man was found with a gunshot wound to the head. Witnesses told the police that two men were seen leaving together in a black Chevrolet Malibu after the shooting.
The injured man is currently in stable condition. About 10 minutes after the shooting, the police responded to another shooting in the 2000 block of S. Main Street in High Point.
This time, one of the suspects who fled the crime scene was shot. The man, who was later arrested in connection with the shooting, told the police that he was driving the Chevrolet when an altercation occurred with the other suspect.
The passenger shot the driver two times, but the latter managed to run from the vehicle. After the shooting, the gunman got in the driver's seat of the Chevrolet and sped off. The police investigation determined that the two men – the driver and passenger – were involved in the Thomasville shooting.
Later that night, someone fitting the description of the suspect surfaced in Charlotte where he reportedly carjacked a group of people and drove off with their car. The suspect was later arrested by Charlotte police and was taken into custody held on a more than $1 million bond.
Criminal Defense in North Carolina: Assault With a Deadly Weapon
The injured suspect was charged with one count of assault with a deadly weapon – inflicting serious injury with intent to kill. The charge is a Class C felony in North Carolina punishable by a prison term of up to eight years.
The other suspect – who injured his accomplice in High Point – is facing similar charges in addition to auto theft charges. Since North Carolina law does not contain a separate offense for motor vehicle theft, state courts refer to the crime as "larceny of a motor vehicle."
In the state of North Carolina, assault with a deadly weapon is considered a felony crime. It can be committed with intent to kill or resulting in serious injury or both.
What is a Deadly Weapon, Serious Injury, and Intent to Kill?
Under state law, a deadly weapon is any object that could be used to kill another person.
North Carolina law defines a "serious injury" as any injury that could require medical attention. In fact, the victim does not necessarily have to receive medical treatment or care for the injury to qualify as "serious."
When circumstances surrounding the assault make it look as if the alleged perpetrator intended to kill the victim, the court will establish the "intent to kill."
If you are being accused of assaulting someone in Charlotte or elsewhere in North Carolina, do not hesitate to consult with a Charlotte criminal defense attorney from Arnold & Smith, PLLC. Get your free consultation by calling at 704-370-2828 or complete our contact form.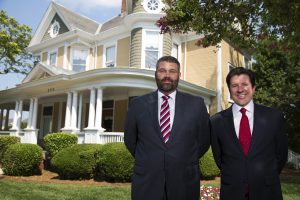 The criminal defense attorneys at Arnold & Smith, PLLC make it their mission to zealously defend their clients on a wide range of criminal matters at both the state and federal levels. These matters may include any charge from traffic offenses; DWI/DUI; drug charges (from simple possession to possession with intent to distribute and trafficking); gun permit denials; weapons offenses; and property crimes (larceny, breaking and entering, robbery, fraud, embezzlement, white collar offenses); to sexually related offenses (indecent exposure; sexual assault, crimes against nature, removal from sex offender registry); and violent crimes (domestic violence; assault; manslaughter; homicide, murder). Other legal issues that Arnold & Smith, PLLC criminal clients may be facing include restraining orders, restraining order and probation violations, expungements; appeals; and immigration issues related to criminal charges. Our criminal defense attorneys are passionate about ensuring that individuals empower themselves by being informed about their constitutional rights, and stand at the ready to fight in the defense of those facing criminal charges.
Source:
https://www.wfmynews2.com/article/news/crime/high-point-thomasville-charlotte-shooting/83-5edcfc7a-d0ec-4366-9781-3d517258544f
Image Credit:
https://www.freeimages.com/photo/car-stealing-1436877
See Our Related Video from our YouTube channel:
https://www.youtube.com/user/ArnoldSmithPLLC?feature=watch
See Our Related Blog Posts: