Charlotte Criminal Lawyer Brad Smith answers the question: "What are the long term effects of being convicted of a crime?"
The chairperson of Charlotte's police review board has been charged with sexually assaulting two victims for more than two decades. Henry Black Jr., 49, is the chairperson of the city's Citizens Review Board. Charlotte's Citizens Review Board hears appeals by citizens on the Charlotte-Mecklenburg Police Department (CMPD) disciplinary decisions after police misconduct allegations. Black was appointed to the board five years ago, according to The Charlotte Observer.
According to the CMPD, Black was charged with sexually assaulting two women over a 22-year period. The attacks began when the victims were children and continued between 1996 and 2018.
Chair of Charlotte Police Review Board Charged with Child Sexual Abuse, Statutory Rape, Incest, and Statutory Sex Offense
Black was arrested in Myrtle Beach, SC, and was charged with two counts of statutory rape, two counts of child abuse/sexual act, four counts of incest, 14 counts of indecent liberties with children, and three counts of a statutory sex offense.
In North Carolina, a minor is any person who has not reached the age of 18.
According to the police, the sexual abuse continued despite the victims repeatedly reporting the crimes to other adults. In North Carolina, failing to report child sexual abuse and rapes is illegal, which is why the CMPD is now looking for people who were aware of the sex crimes but did nothing.
Before appointing someone to the Citizens Review Board, the appointee must undergo criminal background checks. The Observer reviewed public records and discovered that Black has had no prior criminal convictions in North Carolina. But is it even possible to clean up your criminal record in our state?
The Challenges of Rape Cases in North Carolina
Ask any Charlotte criminal defense attorney, and he or she will tell you that obtaining a conviction in a rape case in our state is very different from other states.
In sex offense cases in which the alleged perpetrator says the sexual act was consensual, and not a crime at all, it can be extremely tough to convince juries to get a conviction even if the case makes it to trial.
According to The News & Observer citing Cumberland District Attorney Billy West, obtaining a conviction in a rape case from a jury of 12 "may be the most difficult one to get in our system."
The biggest challenge of sex offense cases in North Carolina is if the defendant and plaintiff had a prior relationship or were seen together somewhere in public (they went on a date, attended a party together, etc.). In these cases, the evidence boils down to the alleged victim's word against the alleged perpetrator's word.
Meanwhile, getting a conviction can be easier if the defendant was a stranger. In other words, if there is no plausible non-criminal reason for the perpetrator to have sexual contact with the victim prior to the sex offense, the rape would most likely be considered a crime.
One Cannot Revoke Consent to a Sex Act in North Carolina
The burden of proof is heightened in North Carolina because of a legal precedent that says consent to a sex act cannot be revoked. Thus, if the alleged victim gave consent to a sex act, and the defendant continues the act after being asked to stop, it will most likely not constitute a crime.
In fact, North Carolina is the only state where this rule applies, according to The News & Observer citing Skye David, staff attorney for N.C. Coalition Against Sexual Assault.
Although North Carolina's state law defines sex acts with an incapacitated person as rape, the 40-year-old legal precedent invalidates the law if the person voluntarily caused the incapacitation through drinking or drug use.
As a result of the legal challenge, prosecutors in North Carolina struggle with obtaining a conviction in many sexual assault and rape cases. If you are being accused of a sex crime, contact our Charlotte criminal defense attorney at Arnold & Smith, PLLC. Call at 704-370-2828 or complete our contact form for a free consultation. If you find yourself facing criminal charges and need the help of an experienced criminal defense attorney in or around Charlotte, Lake Norman, or our new office in Monroe, please contact Arnold & Smith, PLLC today at (704) 370-2828 or find additional resources here.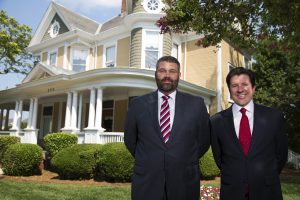 The criminal defense attorneys at Arnold & Smith, PLLC make it their mission to zealously defend their clients on a wide range of criminal matters at both the state and federal levels. These matters may include any charge from traffic offenses; DWI/DUI; drug charges (from simple possession to possession with intent to distribute and trafficking); gun permit denials; weapons offenses; and property crimes (larceny, breaking and entering, robbery, fraud, embezzlement, white collar offenses); to sexually related offenses (indecent exposure; sexual assault, crimes against nature, removal from sex offender registry); and violent crimes (domestic violence; assault; manslaughter; homicide, murder). Other legal issues that Arnold & Smith, PLLC criminal clients may be facing include restraining orders, restraining order and probation violations, expungements; appeals; and immigration issues related to criminal charges. Our criminal defense attorneys are passionate about ensuring that individuals empower themselves by being informed about their constitutional rights, and stand at the ready to fight in the defense of those facing criminal charges.
Source:
https://www.charlotteobserver.com/news/local/crime/article235006687.html
https://www.newsobserver.com/news/state/north-carolina/article228006114.html
Image Credit:
https://www.freeimages.com/photo/management-1-1236766
See Our Related Video from our YouTube channel:
https://www.youtube.com/user/ArnoldSmithPLLC?feature=watch
See Our Related Blog Posts: