Charlotte Criminal Lawyer Brad Smith answers the question: "Should I talk to the police?"
A 30-year-old man from Charlotte is facing multiple drug possession charges following an undercover police sting operation. The report brings North Carolina's drug possession laws back into the spotlight.
As reported by Statesville Record & Landmark, Dondi Christopher Hancock, a 30-year-old man from Charlotte, was charged with:
Two counts of felony drug possession with intent to sell and deliver a Schedule II controlled substance;
Two counts of selling and distributing a Schedule II drug;
Two counts of maintaining a motor vehicle for a controlled substance; and
One count of felony conspiracy to sell and deliver a Schedule II controlled substance.
The Charlotte man is facing multiple drug possession charges following an investigation and undercover sting operation by the Iredell County Sheriff's Office. If you or someone you know is in a similar situation, contact a Charlotte criminal defense lawyer at Arnold & Smith, PLLC.
North Carolina Drug Possession Laws: Controlled Substances and Schedules
Under the North Carolina Controlled Substances Act (NCCSA) Chapter 90 Article 5, Schedules II through V have both "a high risk for abuse" and "accepted medical use." While there are circumstances in which it is legal to use these drugs, it is still unlawful to sell or possess them unless you have a valid prescription from a doctor.
Schedule II controlled substances, which have accepted medical use with severe restrictions, include such drugs as cocaine, raw opium, methamphetamine, methadone, morphine, and opium extracts-fluid and powder, among others.
Unlawful possession of a Schedule II drug is punishable as a Class 1 Misdemeanor with a maximum jail sentence of 45 days in jail for the first offense. The second offense is considered a Class 1 Felony with up to five months in jail.
Why Was Hancock Charged with Drug Possession?
The police arrested Hancock following a series of complaints that the man was selling and distributing drugs, specifically crack cocaine, in the Mooresville area.
The police began surveillance and launched undercover operations during which an undercover detective was able to meet with Hancock and buy crack cocaine on two occasions.
Hancock, who has a criminal history involving drug possession and larceny in the state of North Carolina, is being held on a $75,000 secured bond, according to the publication.
The Charlotte man has multiple pending charges in both Iredell County and Mecklenburg County, including for possession of paraphernalia and possession of marijuana, as well as conspiracy and contributing to the delinquency of a minor.
What is Considered Drug Possession in North Carolina?
State laws cover various types of drug crimes, including possession of a controlled substance.
You do not necessarily need to have a controlled substance in your hands, pockets, or on you to be charged with drug possession in North Carolina. In our state, possession can be found if you have "actual possession" or "constructive possession."
Actual possession is when a defendant has a controlled substance on his or her person, is aware of its presence, and has intent to use or dispose of it.
Constructive possession is when a defendant has the intent and capability to exercise control and dominion over an illegal drug.
You can be charged with drug possession if a controlled substance was in a vehicle you are sitting in, regardless of whether you were the driver or passenger.
Actual or constructive possession does not make a difference in the severity of penalties or sentencing in drug possession cases in North Carolina. However, there are multiple defenses that could be used by an experienced criminal defense lawyer to defend an individual from drug charges.
One of such defenses is the lack of proof that the defendant "knowingly" possessed the illegal drug. Drug possession charges can be dropped or dismissed if the prosecutor does not have evidence to prove that the defendant was aware or conscious of what he or she was doing.
If you are still wondering whether or not you need a criminal defense attorney, schedule a free consultation to find out the answers to your questions. Contact Arnold & Smith, PLLC, to discuss your case right away. Call at 704-370-2828 or complete our contact form.
The criminal defense team at Arnold & Smith, PLLC is here to help you move out of the shadows of your past actions and into a brighter future. Let us devise a rock-solid case strategy for the best possible result. You can discuss your pending charges with a North Carolina DUI lawyer by calling (704) 370-2828 for a consultation. If you find yourself facing criminal charges and need the help of an experienced criminal defense attorney in or around Charlotte, Lake Norman, or our new office in Monroe, please contact Arnold & Smith, PLLC today at (704) 370-2828 or find additional resources here.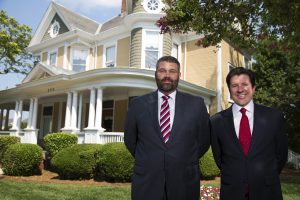 The criminal defense attorneys at Arnold & Smith, PLLC make it their mission to zealously defend their clients on a wide range of criminal matters at both the state and federal levels. These matters may include any charge from traffic offenses; DWI/DUI; drug charges (from simple possession to possession with intent to distribute and trafficking); gun permit denials; weapons offenses; and property crimes (larceny, breaking and entering, robbery, fraud, embezzlement, white collar offenses); to sexually related offenses (indecent exposure; sexual assault, crimes against nature, removal from sex offender registry); and violent crimes (domestic violence; assault; manslaughter; homicide, murder). Other legal issues that Arnold & Smith, PLLC criminal clients may be facing include restraining orders, restraining order and probation violations, expungements; appeals; and immigration issues related to criminal charges. Our criminal defense attorneys are passionate about ensuring that individuals empower themselves by being informed about their constitutional rights, and stand at the ready to fight in the defense of those facing criminal charges.
Source:
https://www.ncleg.net/enactedlegislation/statutes/html/byarticle/chapter_90/article_5.html
https://criminal.findlaw.com/criminal-charges/types-of-drug-crimes.html
Image Credit:
https://www.freeimages.com/photo/various-abusive-drugs-1194951
See Our Related Video from our YouTube channel:
https://www.youtube.com/user/ArnoldSmithPLLC?feature=watch
See Our Related Blog Posts: