Charlotte Criminal Lawyer Brad Smith answers the question: "Why is it important to hire a DWI lawyer quickly after being charged with a DWI?"
Yes, it is possible that law enforcement could seize your motor vehicle during a Driving While Impaired (DWI) stop in North Carolina if your arrest meets certain requirements under the Governor's DWI Initiative.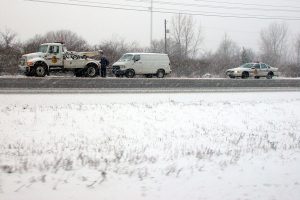 Since law enforcement can seize your car during a DWI stop, it is critical to contact a knowledgeable criminal defense lawyer in North Carolina as soon as possible. Time is of the essence when there is a risk of vehicle seizure and forfeiture following a DWI arrest.
Speak with our Charlotte DWI defense attorneys at Arnold & Smith, PLLC, to discuss your particular situation and help you get your vehicle back.
When Can Law Enforcement Seize Your Motor Vehicle During a DWI Stop?
Under N.C.G.S. § 20-28.3, law enforcement may seize your motor vehicle if you are driving with an invalid driver's license and/or invalid, expired, or non-existent insurance policy at the time of the DWI stop.
Also, your car may be seized during a DWI stop if you are operating a motor vehicle with a license revoked due to a prior impaired driving revocation. In fact, law enforcement will seize your vehicle even if the driver is not listed as the owner of the automobile.
After the seizure, the vehicle will be towed to a local towing storage facility.
Forfeiture of a Motor Vehicle During a DWI Stop
Under the Governor's DWI Initiative, law enforcement officers are allowed to seize motor vehicles from repeat DWI offenders. Your vehicle can be seized when you are charged with impaired driving and are:
Driving with a revoked license due to a prior DWI offense; or
Driving with an invalid license or not covered by an auto insurance liability policy.
Law enforcement in North Carolina can seize your vehicle at the time of the DWI arrest, not after your case goes to trial. If you are convicted of driving while impaired and also of driving with a revoked license from a prior impaired driving offense, your motor vehicle will likely be forfeited.
When this happens, authorities can either keep your vehicle for its own use or sell it and keep the proceeds. Under North Carolina law, you may be able to get your vehicle back if you were not the driver convicted of DWI.
Note: The state can forfeit your motor vehicle even before your criminal case is resolved and even when there is no court order. The state has a right to sell your motor vehicle when 90 days have passed from the date of the seizure as long as the automobile's value does not exceed $1,500. Otherwise, seized vehicles can be sold at any time when the towing and storage costs exceed 85% of the car's fair market value.
It is critical to contact a knowledgeable criminal defense lawyer as soon as possible after your vehicle was seized by law enforcement after a DWI stop. Our attorneys at Arnold & Smith, PLLC, may be able to help you get your car back. Get a phone or video consultation by calling at (704) 370-2828 to speak with our detail-oriented and well-versed lawyers with offices in Charlotte, Lake Norman, and Monroe, please contact Arnold & Smith, PLLC today or find additional resources here.
The criminal defense attorneys at Arnold & Smith, PLLC make it their mission to zealously defend their clients on a wide range of criminal matters at both the state and federal levels. These matters may include any charge from traffic offenses; DWI/DUI; drug charges (from simple possession to possession with intent to distribute and trafficking); gun permit denials; weapons offenses; and property crimes (larceny, breaking and entering, robbery, fraud, embezzlement, white collar offenses); to sexually related offenses (indecent exposure; sexual assault, crimes against nature, removal from sex offender registry); and violent crimes (domestic violence; assault; manslaughter; homicide, murder). Other legal issues that Arnold & Smith, PLLC criminal clients may be facing include restraining orders, restraining order and probation violations, expungements; appeals; and immigration issues related to criminal charges. Our criminal defense attorneys are passionate about ensuring that individuals empower themselves by being informed about their constitutional rights, and stand at the ready to fight in the defense of those facing criminal charges.
Source:
https://www.ncleg.net/enactedlegislation/statutes/html/bysection/chapter_20/gs_20-28.3.html
Image Credit: 
https://www.freeimages.com/photo/police-tow-1481782
See Our Related Video from our YouTube channel:
https://www.youtube.com/user/ArnoldSmithPLLC/videos
See Our Related Blog Posts: