Charlotte Criminal Lawyer Brad Smith answers the question: "Should I ever plead guilty to a charge?"
For millions of American citizens, owning a concealed carry weapon provides a measure of unparalleled security. However, if an individual is charged with a criminal offense and is found to be in possession of a concealed carry weapon that is not properly permitted, it can create a challenge to that person's criminal defense team. Read on for what North Carolina residents should know about concealed carry weapons and criminal defense in their state.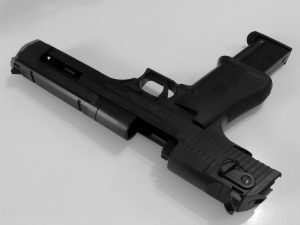 North Carolina Concealed Carry Handgun Permit Requirements
To obtain a concealed carry permit for a handgun in North Carolina, residents must be at least 21 years old and a United States citizen or lawful permanent resident alien. In addition, the individual must have completed a firearms training course of at least eight hours in length. The applicant must be a resident of North Carolina for the 30 days preceding the filing of the application, as well as a resident of the county in which the application is filed.
Applicants must not suffer from any physical or mental impairment that prevents them from safely handling a gun. They also must not have been convicted of an impaired driving offense within three years of the application date, and must not be currently awaiting trial or sentencing for a disqualifying criminal offense. When an individual is charged with an offense and it is determined that their concealed carry weapon was obtained in violation of these requirements, it can pose a challenge for any criminal defense attorney in supporting the defendant by building a plausible case.
Where are Concealed Carry Weapons Allowed in North Carolina?
There are many public spaces in North Carolina where concealed carry weapons are allowed.  State parks, state and national forests, roadside rest areas, and vehicles are all sites where concealed carry weapons are allowed. When gun owners have their permit on hand, they are also allowed to carry their weapon at funerals and parades, as well as locked in the vehicle parked in the parking lot of an educational facility such as a school or university.
Off-Limit Locations for Concealed Carry Weapons in North Carolina
As any experienced criminal defense attorney can attest, although North Carolina is fairly flexible in terms of where residents can carry their concealed weapons with a permit there are some locations where weapons are off-limits. Law enforcement offices and facilities, detention and correctional facilities, and state office buildings all prohibit concealed carry weapons on the premises.
In addition, any public or private school building or bus, campus, grounds, recreation area, or other property owned by an educational institution is off-limits for concealed carry weapons.  However, in many jurisdictions concealed carry weapons can remain locked in a vehicle, provided the owner has a permit.
When to Contact a Legal Professional
Although carrying a concealed weapon in North Carolina is permitted in many places, there are some situations in which these weapons are not allowed. When individuals are charged with a criminal offense that involves the improper use or possession of a concealed carry weapon, they should consider the services of experienced local criminal defense attorneys.
For years, the attorneys at Arnold and Smith PLLC have been helping residents in Charlotte and throughout North Carolina navigate the legal process. Please contact us today to get a phone, video or in-person consultation by calling at (704) 370-2828 to speak with our detail-oriented and well-versed lawyers with offices in Charlotte, Lake Norman, and Monroe, please contact Arnold & Smith, PLLC today or find additional resources here.
The criminal defense attorneys at Arnold & Smith, PLLC make it their mission to zealously defend their clients on a wide range of criminal matters at both the state and federal levels. These matters may include any charge from traffic offenses; DWI/DUI; drug charges (from simple possession to possession with intent to distribute and trafficking); gun permit denials; weapons offenses; and property crimes (larceny, breaking and entering, robbery, fraud, embezzlement, white collar offenses); to sexually related offenses (indecent exposure; sexual assault, crimes against nature, removal from sex offender registry); and violent crimes (domestic violence; assault; manslaughter; homicide, murder). Other legal issues that Arnold & Smith, PLLC criminal clients may be facing include restraining orders, restraining order and probation violations, expungements; appeals; and immigration issues related to criminal charges. Our criminal defense attorneys are passionate about ensuring that individuals empower themselves by being informed about their constitutional rights, and stand at the ready to fight in the defense of those facing criminal charges.
Source:
https://www.ncleg.net/EnactedLegislation/Statutes/HTML/BySection/Chapter_14/GS_14-269.html
Image Credit: 
https://www.freeimages.com/photo/desert-eagle-4-1471793
See Our Related Video from our YouTube channel:
https://www.youtube.com/user/ArnoldSmithPLLC/videos
See Our Related Blog Posts: