Charlotte Criminal Lawyer Brad Smith answers the question: "If I have an outstanding warrant, what should I do?"
If you are charged in a criminal case, the situation can be terrifying. The legal system might seem complicated, especially for those who have not previously faced criminal charges. There are many processes and procedures that are necessary following an arrest. One of the initial hearings with the judge is where the defendant will learn of the charges and the judge will determine bail. The attorneys can provide arguments as to why the defendant should or should not have a particular amount of bond or any bond at all. A criminal defense attorney will represent you through this process and answer questions and provide guidance throughout.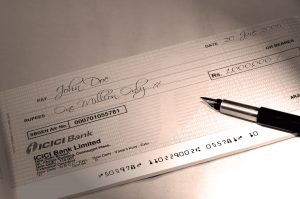 What is Bond?
When a defendant is charged in a criminal case, they are required to attend all future hearings and court dates. To ensure compliance, the defendant is held in jail while their case is pending. The judge sets bail, which is money the defendant posts to get out of jail until the case is heard. Bond is a sum of money the court holds until your case is complete. It is an incentive for a defendant to attend court appearances or else lose the money they paid.  Once you post the required bail amount, you will be able to leave jail. You must abide by all the conditions of pretrial release set forth by the court during this time. If you fail to show up for your court date or if you do not abide by the requirements, you will forfeit your money and you must return to jail until the case is resolved.
Types of Bond
There are several types of bond that could be used in your case. In general, you must pay about 10% to 15% of the total amount of bond. You will receive the money back once the case is complete.
Own Recognizance Release (OR) – This is commonly used for situations that involve minor offenses where the defendant has no criminal background. This is also called a written promise to appear. No money is required. The defendant must promise in writing to return to attend necessary court proceedings.
Unsecured Bond – An unsecured bond does not require an immediate payment. The defendant agrees to pay bond if they fail to appear at their designated hearings. The bond amount is set and the defendant signs a promise to pay in the event that they do not return.
Secured Bond – A secured bond is one which is secured with a payment. The payment is typically a portion of the entire bond that was set by the judge. You must pay the secure bond before you will be released from jail. A bond may be secured with money or with assets if you work with a bail bondsman.
Cash Bond – A cash bond is also called a C bond. With this type of bond, the defendant must post the entire amount of the bond in cash before release. A C bond is typically used in the worst and most serious crimes in situations where the release of the defendant could be dangerous. Bail bondsmen usually do not handle cash bonds.
Setting bail is one of the first parts of the legal process. The judge will review a variety of factors to determine the amount of bond to set. The judge will evaluate the seriousness of the crime and the defendant's prior convictions, among other things. The amount of bond is usually in direct relation to whether the person could be dangerous to the community if let out of jail on bond.
If you were charged with a crime, it is best to seek legal representation as soon as possible. Please contact us today to get a phone, video or in-person consultation by calling at (704) 370-2828 to speak with our detail-oriented and well-versed lawyers with offices in Charlotte, Lake Norman, and Monroe, please contact Arnold & Smith, PLLC today or find additional resources here.
The criminal defense attorneys at Arnold & Smith, PLLC make it their mission to zealously defend their clients on a wide range of criminal matters at both the state and federal levels. These matters may include any charge from traffic offenses; DWI/DUI; drug charges (from simple possession to possession with intent to distribute and trafficking); gun permit denials; weapons offenses; and property crimes (larceny, breaking and entering, robbery, fraud, embezzlement, white collar offenses); to sexually related offenses (indecent exposure; sexual assault, crimes against nature, removal from sex offender registry); and violent crimes (domestic violence; assault; manslaughter; homicide, murder). Other legal issues that Arnold & Smith, PLLC criminal clients may be facing include restraining orders, restraining order and probation violations, expungements; appeals; and immigration issues related to criminal charges. Our criminal defense attorneys are passionate about ensuring that individuals empower themselves by being informed about their constitutional rights, and stand at the ready to fight in the defense of those facing criminal charges.
Source:
https://www.law.cornell.edu/wex/bail
https://www.law.cornell.edu/wex/own_recognizance_(or)#:~:text=Own%20recognizance%20(OR)%2C%20also,when%20required%20to%20do%20so.
Image Credit: 
https://www.freeimages.com/photo/million-buck-cheque-1-1240470
See Our Related Video from our YouTube channel:
https://www.youtube.com/user/ArnoldSmithPLLC/videos
See Our Related Blog Posts: