Charlotte Criminal Lawyer Brad Smith answers the question: "What happens if I am convicted of a DUI or DWI in Charlotte North Carolina?"
We all have heard the stories of families losing loved ones to those who have driven under the influence of alcohol or drugs, or drivers losing their own lives because they drove while impaired. These are sad stories and serve as a cautionary tale of avoiding impaired driving. Nevertheless, drivers in North Carolina are frequently charged with driving while impaired (DWI). Depending on whether this is your first time being charged with a DWI, or if it is a second or subsequent offense, the penalties for a DWI can be steep. In addition to fines and jail time that those convicted of DWI face, there are other ramifications of this criminal conviction that impact them for the rest of their lives. For additional resources regarding DWI click HERE.
Fines and Court Costs
A DWI is not cheap. Not only are you paying for court costs, any attorney's fees that result, any damages accrued after the incident, and other costs associated with the incident, but you are also paying for:
Reinstatement of your license if it was taken away
An ignition interlock system if it is part of your sentence
Increased insurance premiums
These are just a few of the additional costs that someone with a DWI might face. It is by no means an exhaustive list.
Employment
If you have ever filled out a job application, then you know that many types of jobs require you to disclose any criminal convictions. Even if the application itself does not have a question about criminal convictions, a background check would show a potential employer your criminal record. Depending on the type of job you are applying for and the type of industry you are trying to enter, you may not be eligible for employment at all because of your DWI. Employers have policies in place about criminal backgrounds and whether or not someone with one is permitted to work for them. A DWI conviction could cost you future employment opportunities.
Housing
Similar to employment issues, those with a criminal background might also find difficulties obtaining housing. When you are renting an apartment or home, a background check is usually conducted. If the company or individual renting the home sees a criminal conviction, it could reduce the likelihood they rent to you. It is dependent on the renting agency's policies and procedures, but there is a chance you could be denied certain housing because of your criminal record.
As you can see, the effects of a DWI charge can reach further than the initial sentence handed down by the judge. That is why the criminal defense attorneys at Arnold & Smith, PLLC are here for you if you are charged with a DWI. We know the consequences of a criminal conviction and present every possible defense. Do not let one incident define your entire life. Contact us today for a consultation. If you find yourself facing criminal charges and need the help of an experienced criminal defense attorney in or around Charlotte, Lake Norman, or our new office in Monroe, please contact Arnold & Smith, PLLC today at (704) 370-2828 or find additional resources here.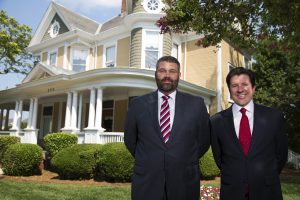 The criminal defense attorneys at Arnold & Smith, PLLC make it their mission to zealously defend their clients on a wide range of criminal matters at both the state and federal levels. These matters may include any charge from traffic offenses; DWI/DUI; drug charges (from simple possession to possession with intent to distribute and trafficking); gun permit denials; weapons offenses; and property crimes (larceny, breaking and entering, robbery, fraud, embezzlement, white collar offenses); to sexually related offenses (indecent exposure; sexual assault, crimes against nature, removal from sex offender registry); and violent crimes (domestic violence; assault; manslaughter; homicide, murder). Other legal issues that Arnold & Smith, PLLC criminal clients may be facing include restraining orders, restraining order and probation violations, expungements; appeals; and immigration issues related to criminal charges. Our criminal defense attorneys are passionate about ensuring that individuals empower themselves by being informed about their constitutional rights, and stand at the ready to fight in the defense of those facing criminal charges.
Source:
https://www.ncleg.net/EnactedLegislation/Statutes/HTML/BySection/Chapter_20/GS_20-138.1.html
https://www.nccourts.gov/help-topics/fees-and-payments/court-costs
Image Credit:
https://www.freeimages.com/photo/gavel-2-1236453
See Our Related Video from our YouTube channel:
https://www.youtube.com/user/ArnoldSmithPLLC?feature=watch
See Our Related Blog Posts: