Charlotte Criminal Lawyer Brad Smith answers the question: "Should I ever plead guilty to a charge?"
A Charlotte woman pleaded guilty in federal court for filing false tax returns. Andrivia Wells, a Charlotte-based tax preparer, entered a guilty plea for three out of 35 counts.
The woman pleaded guilty for filing false tax returns for herself and assisting the filing of false tax returns for her clients, according to WWAY3. There was also a charge related to allegedly obstructing criminal investigators from the Internal Revenue Service (IRS).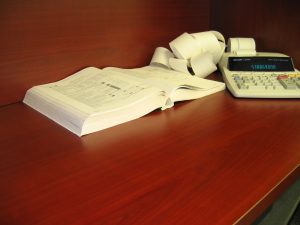 From 2011 through 2019, the woman ran Rush Tax Service out of three locations in Charlotte:
Beatties Ford Road
Nevin Road
North Tryon Street
Over that eight-year period, Wells received more than $1.2 million in fees by preparing over 6,000 tax returns for her clients, federal prosecutors said. In many instances, the tax fees were taken from her clients' tax refunds. In fact, many of her clients were unaware of how much they were charged. In some cases, the tax fee exceeded $500.
The indictment filed in 2019 revealed that Wells filed her clients' tax returns with fabricated items, including filing status, wages, education credits, business income and losses, and more. Wells' clients did not know what she was doing behind their backs until they were contacted by the IRS inquiring into the items on their returns.
Federal prosecutors allege that Wells set one of her offices on fire shortly after she was notified about the ongoing investigation. The apparent arson destroyed financial records, client files, and computer hardware, all of which could have assisted the prosecution's case.
Tax Fraud Penalties in North Carolina
Filing false tax returns and other forms of tax fraud is a white-collar crime that carries serious consequences. Tax fraud is a crime that rarely stays hidden because most people get caught sooner or later.
If the IRS is investigating you or charged you with tax fraud, consult with a Charlotte white-collar crime attorney to prepare a criminal defense strategy. In North Carolina, filing false tax returns is a felony. Although filing a fraudulent return is more common than tax evasion, it is less severe and carries up to three years in prison and up to $100,000 in fines.
When a taxpayer willfully uses illegal means to misrepresent or conceal financial details to avoid paying taxes or evade tax laws in North Carolina, he or she may be charged with tax evasion. If convicted, the taxpayer can be sentenced to up to five years in jail and ordered to pay up to $100,000 in fines.
Failing to file a tax return, on the other hand, is a misdemeanor that carries up to a year in jail and $25,000 in fines for each year that the taxpayer failed to file. Taxpayers might face criminal charges for not filing tax returns only if it was due no more than six years ago.
The "not filing a tax return" charge is more common than evading taxes because the IRS only has to prove that the taxpayer did not intend to file. If the IRS is accusing you of tax fraud, speak with a Charlotte criminal defense lawyer. Contact Arnold & Smith, PLLC, to investigate your particular case and prepare a solid tax fraud defense strategy. Call at (704) 370-2828 to evaluate your options or fill out our contact form. Now taking cases throughout North Carolina with offices in Uptown Charlotte, Mooresville and our new location in Monroe.
The skilled personal injury attorneys at Arnold & Smith, PLLC are dedicated to maximizing the financial recovery and obtaining justice for every personal injury client injured by another party's negligence. The issues our personal injury clients may be facing include, but are not limited to, slip and fall injuries, wrongful death, product liability, catastrophic injuries, dog bite claims, car and truck accident injuries, motorcycle injuries, traumatic brain injury (TBI), nursing home negligence, spinal cord injury, boating accidents, and defective medical device injury. Our personal injury attorneys understand the devastating impact such an injury can have on a person's life, and that the effects so often go beyond physical pain and suffering. The personal injury attorneys at Arnold & Smith, PLLC are dedicated to helping clients determine the strength of their claims, and to aggressively pursuing the means necessary to achieve the best possible end result for each client's particular situation.
Source:
https://www.wwaytv3.com/2020/02/15/charlotte-tax-preparer-pleads-guilty-for-filing-false-tax-returns/

Image Credit: 
https://www.freeimages.com/photo/accounting-calculator-tax-return-taxes-1241513
See Our Related Video from our YouTube channel:
https://www.youtube.com/user/ArnoldSmithPLLC/videos
See Our Related Blog Posts: