Charlotte Criminal Lawyer Brad Smith answers the question: "What are the long term effects of being convicted of a crime?"
A new report by Charlotte Observer explores the most murderous stretch of road in the city. The street, which is about 3,350 feet long, is one of Charlotte's "hot spots" that account for about 8% of the city's violent crime.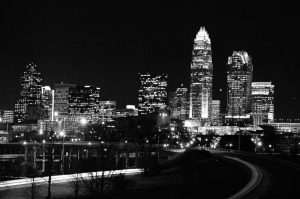 The report details how three people were shot to death on Catherine Simmons Avenue in 2019, while a fourth was killed just around the corner. The four people were among the 107 victims killed in Charlotte last year, the highest number of murders since 1993.
Catherine Simmons is located in the heart of Lincoln Heights, a northern neighborhood of Charlotte.
Catherine Simmons Avenue is Charlotte's Most Murderous Street
Recent findings by the Charlotte-Mecklenburg Police Department indicate that much of the city's violence is concentrated in the so-called violent crime "hot spots" — neighborhoods that account for just a fraction of Charlotte's population.
CMPD has increased its presence in the hot spots by doing more traffic stops, seizing more guns, and conducting more searches there. Police officers patrol the high-risk neighborhoods by foot, car, and bike in an attempt to prevent crime.
However, the report argues that "it will require more than just police" to make Catherine Simmons Avenue safer. Among many other measures, residents and police insist that making life safer on the infamous street requires landlords evicting drug dealers and other law-breakers.
In addition, residents will have to be willing to cooperate with police and have the courage to report crimes in the face of the risk of retaliation.
The Urging Problem of Violent Crime in Lincoln Heights
Catherine Simmons Avenue was named after a hardworking businesswoman who ran a beauty shop nearby. Her daughter, Linda Jones, successfully petitioned to have the street renamed for her mother in 2004 in an attempt to inspire residents.
Now, each time Jones hears about murders on Catherine Simmons, it is "like a knife sticking in my gut," she said.
Since 2017, five people have been killed on Catherine Simmons Avenue. Only three of those cases led to arrests. The number of violent crimes rose more than 50% from 2013 to 2018 in Lincoln Heights.
In 2018, the neighborhood's violent crime rate was approximately seven times that of the county. Catherine Simmons Avenue and Lincoln Heights as a whole are no strangers to high rates of poverty and unemployment as well as relatively low rates of homeownership. These two factors are commonly associated with high-crime neighborhoods.
Charlotte Police Prioritize Gun and Drug Crimes on Catherine Simmons
The report also says that Charlotte police have stepped up their activity on Catherine Simmons. In particular, traffic stops have increased by a whopping 70% from 2018 to 2019. Local police officers patrolling Charlotte's deadliest street are said to prioritize gun and drug crimes.
Residents complain that although they often see police vehicles cruising Catherine Simmons Avenue during the day, patrol cars cannot be seen as often at night. More than two dozen armed robberies were reported in the Lincoln Heights area from 2013 to 2017. However, an investigation by the Observer found that Mecklenburg County prosecutors dismissed about 92% of those crimes, one of the highest dismissal rates in the state.
If you are wondering how to get charges against you dismissed or dropped, speak with a Charlotte criminal defense attorney at Arnold & Smith, PLLC. Call at (704) 370-2828 to evaluate your options or fill out our contact form. Now taking cases throughout North Carolina with offices in Uptown Charlotte, Mooresville and our new location in Monroe.
The criminal defense attorneys at Arnold & Smith, PLLC make it their mission to zealously defend their clients on a wide range of criminal matters at both the state and federal levels. These matters may include any charge from traffic offenses; DWI/DUI; drug charges (from simple possession to possession with intent to distribute and trafficking); gun permit denials; weapons offenses; and property crimes (larceny, breaking and entering, robbery, fraud, embezzlement, white collar offenses); to sexually related offenses (indecent exposure; sexual assault, crimes against nature, removal from sex offender registry); and violent crimes (domestic violence; assault; manslaughter; homicide, murder). Other legal issues that Arnold & Smith, PLLC criminal clients may be facing include restraining orders, restraining order and probation violations, expungements; appeals; and immigration issues related to criminal charges. Our criminal defense attorneys are passionate about ensuring that individuals empower themselves by being informed about their constitutional rights, and stand at the ready to fight in the defense of those facing criminal charges.
Source:
https://www.charlotteobserver.com/news/local/article238365633.html
https://www.neighborhoodscout.com/nc/charlotte/crime
https://www.charlotteobserver.com/news/local/article227195269.html
Image Credit: 
https://www.freeimages.com/photo/charlotte-nc-at-night-1551099
See Our Related Video from our YouTube channel:
https://www.youtube.com/user/ArnoldSmithPLLC/videos
See Our Related Blog Posts: