Charlotte DWI Lawyer Brad Smith answers the question: "If I simply intend to plead guilty, why do I need a lawyer?"
A new bill was introduced in the North Carolina House of Representatives that would permit domestic violence offenders to be tracked via GPS. The plan is to have a pilot program and test using GPS to track domestic violence offenders before opening up the program to more counties and eventually the entire state. The bill proposes looking at a variety of factors to determine:
What types of domestic violence offenders will be monitored: "all offenders who violate a domestic violence protective order or only violent offenders."
Staffing offender monitoring: Will local law enforcement be the staff or will the staff be independently sourced?
Costs of monitoring the location of the offender
GPS monitoring type
Will the victim be tracked as well as the offenders?
Other monitoring systems in place throughout North Carolina
Other states' implementation of tracking programs; and
Other legal issues.
The implementation of this bill would push past the current limits of the law. Currently, North Carolina law permits electronic monitoring for defendants who are released from custody with pending charges and defendants who are currently on probation. Current law allows for electronic monitoring of domestic violence offenders or defendants waiting on trial, but this bill does not mention limits on which offenders might be tracked. Additionally, current law is more in line with requiring the defendant or offender to remain at home, and not be tracked at all locations. The bill as it is written currently does not limit which offenders can be eligible for monitoring. Whether this law goes into effect or not, it can be helpful to look at other states' implementation of similar programs.
One of the considerations listed in the body of the bill is what other states have done in relation to GPS monitoring of domestic violence offenders. Each state has its own specific rules, but there are states that permit tracking of domestic violence offenders in various ways:
Monitoring only offenders who have violated a protective order
Monitoring offenders who have committed a domestic violence crime
Monitoring offenders at the issuance of a domestic violence order of protection
Other states have various rules surrounding GPS monitoring of domestic violence offenders, but each is unique in its implementation of the rules and the regulations surrounding the monitoring – length, device, etc. Whether North Carolina passes this bill and domestic violence offenders are subject to GPS monitoring or not, it is important to know your rights. If you have been charged with, or convicted of, a domestic violence charge, the criminal law attorneys at Arnold & Smith, PLLC are here to help you. Whether you are concerned with monitoring of your location or the defense of your crime in court, our attorneys can help you. We know the implications and effects a criminal charge can have on your record. We work diligently to present the best defense possible under the circumstances and make sure your rights are not violated, including the hot button topic of GPS monitoring. Contact us today for a consultation. If you find yourself facing criminal charges and need the help of an experienced criminal defense attorney in or around Charlotte, Lake Norman, or our new office in Monroe (by appointment only until 2019), please contact Arnold & Smith, PLLC today at (704) 370-2828 or find additional resources here.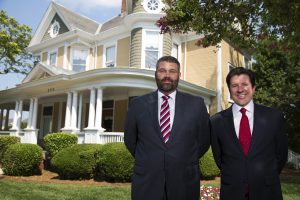 The criminal defense attorneys at Arnold & Smith, PLLC make it their mission to zealously defend their clients on a wide range of criminal matters at both the state and federal levels. These matters may include any charge from traffic offenses; DWI/DUI; drug charges (from simple possession to possession with intent to distribute and trafficking); gun permit denials; weapons offenses; and property crimes (larceny, breaking and entering, robbery, fraud, embezzlement, white collar offenses); to sexually related offenses (indecent exposure; sexual assault, crimes against nature, removal from sex offender registry); and violent crimes (domestic violence; assault; manslaughter; homicide, murder). Other legal issues that Arnold & Smith, PLLC criminal clients may be facing include restraining orders, restraining order and probation violations, expungements; appeals; and immigration issues related to criminal charges. Our criminal defense attorneys are passionate about ensuring that individuals empower themselves by being informed about their constitutional rights, and stand at the ready to fight in the defense of those facing criminal charges.
Source:
https://webservices.ncleg.net/ViewBillDocument/2019/141/0/DRH40005-MMa-19
https://www.ncleg.gov/EnactedLegislation/Statutes/HTML/BySection/Chapter_15a/GS_15a-534.html
Image Credit:
https://www.freeimages.com/photo/car-navigation-system-by-gps-2-1519951
See Our Related Video from our YouTube channel:
https://www.youtube.com/user/ArnoldSmithPLLC?feature=watch
See Our Related Blog Posts: