Charlotte Criminal Lawyer Brad Smith answers the question: "If I have an outstanding warrant, what should I do?"
A new report by the FBI showed a slight decrease in hate crimes in Charlotte metro last year compared with 2017. The Federal Bureau of Investigation tracks the number of hate crimes, along with all other types of non-violent and violent crimes, on a year-over-year basis.
According to Patch, the latest Hate Crimes Statistics report by the FBI shows that the reported number of hate crimes across the U.S. went down from 7,175 incidents in 2017 to 7,120 in 2018.
Hate Crimes See a Slight Decrease in Charlotte and North Carolina
Charlotte metro and North Carolina as a whole aligned with the nationwide trend and saw fewer hate crimes last year. The report notes that the decreased number of hate crimes could be caused by the fact that fewer law enforcement agencies participated in the latest statistics program compared to 2017.
In 2018, only 2,026 agencies out of more than 16,000 submitted incident reports about hate crimes, which is 110 fewer than last year. The remaining agencies did not provide hate crime statistics to the FBI.
In North Carolina alone, the number of hate crimes decreased from 166 incidents in 2017 to 140 reported hate crimes last year.
Are There Really Fewer Hate Crimes in North Carolina?
The news comes several months after North Carolina state lawmakers were pushing for stronger hate crime legislation. This past summer, state lawmakers introduced Senate Bill 209, which in combination with its counterpart HB 312, would impose stricter penalties for hate crimes and enable victims to pursue civil cases against offenders in these crimes.
However, a study released two years ago showed that reported hate crimes in North Carolina rose by a staggering 64% from 2013 to 2017. The study was conducted by Safe Home and was also based on FBI crime data. The national rise was only 22% in the same period.
The study noted that religion accounted for 21% of all reported hate crimes in the state, while racism and sexual orientation comprised 6% and 16% of these crimes, respectively.
What Does North Carolina Law Consider a Hate Crime?
Any crime committed based on prejudice or bigotry towards another person because of his or her race, religion, national origin, or other protected characteristic is considered a hate crime in the state of North Carolina.
While some states do not have criminal charges for hate crimes, North Carolina imposes punishment enhancement for crimes that were committed with ethnic animosity.
If a misdemeanor is committed due to the victim's skin color, race, religion, country of origin, or nationality, the classification of the crime goes through enhancement:
Class A1 or 1 misdemeanor become Class H felony;
Class 2 or 3 misdemeanors become Class 1 misdemeanor; and
Misdemeanors with no prescribed class become Class H felony.
Given the severity of punishment for hate crimes in North Carolina, you need a Charlotte criminal defense attorney if you are falsely accused of a hate crime. Nowadays, it is not uncommon for people to accuse others of hate crimes without putting much thought into the potential repercussions. Speak with our detail-oriented criminal defense lawyers in Charlotte to discuss your options. If you find yourself facing criminal charges and need the help of an experienced criminal defense attorney in or around Charlotte, Lake Norman, or our new office in Monroe, please contact Arnold & Smith, PLLC today at (704) 370-2828 or find additional resources here.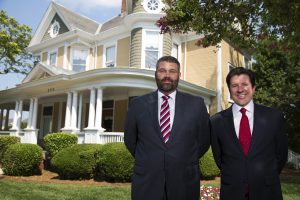 The criminal defense attorneys at Arnold & Smith, PLLC make it their mission to zealously defend their clients on a wide range of criminal matters at both the state and federal levels. These matters may include any charge from traffic offenses; DWI/DUI; drug charges (from simple possession to possession with intent to distribute and trafficking); gun permit denials; weapons offenses; and property crimes (larceny, breaking and entering, robbery, fraud, embezzlement, white collar offenses); to sexually related offenses (indecent exposure; sexual assault, crimes against nature, removal from sex offender registry); and violent crimes (domestic violence; assault; manslaughter; homicide, murder). Other legal issues that Arnold & Smith, PLLC criminal clients may be facing include restraining orders, restraining order and probation violations, expungements; appeals; and immigration issues related to criminal charges. Our criminal defense attorneys are passionate about ensuring that individuals empower themselves by being informed about their constitutional rights, and stand at the ready to fight in the defense of those facing criminal charges.
Source:
https://patch.com/north-carolina/charlotte/hate-crimes-charlotte-metro-fbi-report-shows-decrease
https://abc11.com/politics/nc-lawmakers-renew-calls-for-stronger-hate-crime-legislation/5456499/
https://www.safehome.org/resources/hate-crime-stats/
Image Credit:
https://www.freeimages.com/photo/charlotte-1491889
See Our Related Video from our YouTube channel:
https://www.youtube.com/user/ArnoldSmithPLLC?feature=watch
See Our Related Blog Posts: