Charlotte Criminal Lawyer Brad Smith answers the question: "Can I be arrested without evidence against me?"
Lawmakers in North Carolina's State Senate and House of Representatives – both controlled by Republicans – have unanimously approved a bill to overhaul the state's outdated sexual assault laws.
Gov. Roy Cooper (D) is expected to sign the bill to overhaul the state's bizarre rape exceptions. It is unclear how the approved legislation will affect those who could not have been charged with sexual assault because the law made it illegal to revoke consent after sex has begun.
Consult with a Charlotte criminal defense attorney at Arnold & Smith, PLLC, to discuss the potential impact of the newly approved bill on your particular case.
How Will This Overhaul North Carolina's Sexual Assault Laws?
The approved bill will put an end to a loophole that existed in North Carolina's sexual assault law for the past four decades. Currently, the law makes it impossible for a person to revoke consent after sex has begun, according to Jezebel.
The bill has also addressed another loophole that made it legal to have sex with a person who is incapacitated as long as that person's incapacitation was caused by his or her actions.
Prior to the approved bill, North Carolina was the only state in the nation where it was legal to continue a sex act even when the other person revoked his or her consent. Another loophole in North Carolina's law does not consider it sexual assault if you had sex with someone who is incapacitated as long as his or her condition was caused by consuming alcohol or drugs.
In the four-part bill, there is also a statute of limitations increase for victims of child sexual abuse to sue and expansion of training for school personnel to detect sex abuse and trafficking.
Penalties for Sex Crimes in North Carolina
Despite the outlandish exceptions, criminal courts in North Carolina do not tolerate rapes and sexual assaults and impose harsh penalties:
First-Degree Rape
The first-degree rape charge is filed against persons accused of sex acts with a child under 13 years old as long as the alleged perpetrator is at least four years older than the sexually assaulted victim.
The same charge applies in cases in which the victim is threatened with a deadly weapon or any item that can be perceived as a deadly weapon or when more than one perpetrator is involved in committing the crime.
The crime is charged as a Class B1 felony. If the perpetrator has no prior conviction, the penalty is 13 years in state prison. If there are prior convictions, the perpetrator is facing the penalty of life without parole.
Second-Degree Rape
A perpetrator is facing the second-degree rape charge when a sex act has been forced against the victim's will, the victim was mentally disabled, incapacitated, or physically helpless. The charge is considered a Class C felony, which carries a penalty of up to 12 years in prison.
Statutory Rape
Sexual intercourse with a person aged from 13 to 15 with a person at least six years older than the alleged victim is considered "statutory rape" in North Carolina and is a Class B1 felony. The penalty is up to 13 years in state prison.
If you are facing first-degree, second-degree, or statutory rape charge, contact a Charlotte criminal defense attorney at Arnold & Smith, PLLC, let us devise a rock-solid case strategy for the best possible result. If you find yourself facing criminal charges and need the help of an experienced criminal defense attorney in or around Charlotte, Lake Norman, or our new office in Monroe, please contact Arnold & Smith, PLLC today at (704) 370-2828 or find additional resources here.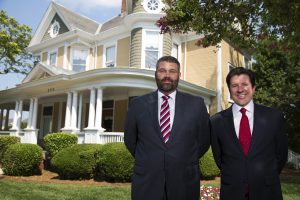 The criminal defense attorneys at Arnold & Smith, PLLC make it their mission to zealously defend their clients on a wide range of criminal matters at both the state and federal levels. These matters may include any charge from traffic offenses; DWI/DUI; drug charges (from simple possession to possession with intent to distribute and trafficking); gun permit denials; weapons offenses; and property crimes (larceny, breaking and entering, robbery, fraud, embezzlement, white collar offenses); to sexually related offenses (indecent exposure; sexual assault, crimes against nature, removal from sex offender registry); and violent crimes (domestic violence; assault; manslaughter; homicide, murder). Other legal issues that Arnold & Smith, PLLC criminal clients may be facing include restraining orders, restraining order and probation violations, expungements; appeals; and immigration issues related to criminal charges. Our criminal defense attorneys are passionate about ensuring that individuals empower themselves by being informed about their constitutional rights, and stand at the ready to fight in the defense of those facing criminal charges.
Source:
https://theslot.jezebel.com/north-carolina-is-fixing-its-bonkers-consent-law-1839568973
Image Credit:
https://www.freeimages.com/photo/charlotte-nc-at-night-1551099
See Our Related Video from our YouTube channel:
https://www.youtube.com/user/ArnoldSmithPLLC?feature=watch
See Our Related Blog Posts: