Charlotte Criminal Lawyer Brad Smith answers the question: "What are the long term effects of being convicted of a crime?"
North Carolina's state prisons are releasing some inmates out early in an attempt to slow the spread of COVID-19 in prisons. The announcement was made by the state's corrections officials, according to the Charlotte Observer.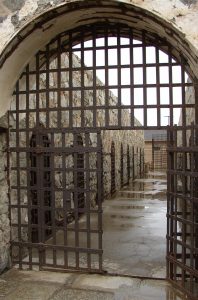 The North Carolina Department of Public Safety (NCDPS) would let inmates serve their sentences outside of prison only if they did not commit violent crimes and fit specific criteria.
Under the program, eligible inmates will serve their sentences outside of prison but will be supervised by community corrections officers and electronic monitoring equipment. All eligible offenders will have to meet certain criteria to be scheduled for early release. In some cases, the NCDPS will require victim notification prior to approving a transfer to the community.
COVID-19: Who's Eligible for Early Release in North Carolina?
The NCDPS is considering some 500 inmates for early release due to COVID-19 fears. Those who are being considered for early release have not been convicted of violent crimes and must meet one of the following criteria:
Pregnancy;
65 years or older with underlying health conditions;
Female offenders aged 50 and older with (a) underlying health conditions and (b) a released date in 2020;
65 years or older with a release date in 2020;
Offenders on home leave scheduled to be released this year; and
Offenders on work release scheduled to be released this year.
The Division of Adult Correction and Juvenile Justice is also reviewing additional eligibility categories for early release to complete their sentence under supervision. On April 9, six offenders were transitioned to community supervision. All six were females who are either pregnant or 65 years or older (both groups are at high-risk for contracting COVID-19, according to the CDC).
Under North Carolina's law, the Public Safety secretary has the authority to allow certain inmates to serve their sentence outside of a prison facility, but only as long as they are supervised by community corrections officers or special operations officers.
Measures to Slow the COVID-19 Spread in North Carolina Prisons
Transitioning eligible individuals into the community is not the only measure taken by the NCDPS to curb the spread of the coronavirus disease behind prison walls. Other measures include:
Suspending visitation, work release, and other programs to limit inmates' exposure to the public;
Providing disinfecting supplies;
Imposing additional cleaning regimens;
Conducting pre-entrance medical screenings for staff;
Thorough medical screenings for new offenders and a mandatory 14-day quarantine period;
Suspending the transfers of offenders from county jails; and
Limiting the movement of offenders within prisons.
Despite the department's precautionary measures, at least 35 offenders in six different facilities across North Carolina have tested positive for coronavirus, while 20 staff members at 10 facilities self-reported a positive diagnosis.
In addition, the NCDPS has been awarding time credits to allow some offenders to shorten their maximum sentence and be released upon completion of the minimum sentence. However, those time credits are only available where appropriate.
If your case meets the above-mentioned criteria to be eligible for the early release from prison, talk to our Charlotte criminal defense lawyers. Contact Arnold & Smith, PLLC, to receive a case review. Call our lawyers at Arnold & Smith, PLLC, at (704) 370-2828 to evaluate your options or fill out our contact form. Now taking cases throughout North Carolina with offices in Uptown Charlotte, Mooresville and Monroe.
The criminal defense attorneys at Arnold & Smith, PLLC make it their mission to zealously defend their clients on a wide range of criminal matters at both the state and federal levels. These matters may include any charge from traffic offenses; DWI/DUI; drug charges (from simple possession to possession with intent to distribute and trafficking); gun permit denials; weapons offenses; and property crimes (larceny, breaking and entering, robbery, fraud, embezzlement, white collar offenses); to sexually related offenses (indecent exposure; sexual assault, crimes against nature, removal from sex offender registry); and violent crimes (domestic violence; assault; manslaughter; homicide, murder). Other legal issues that Arnold & Smith, PLLC criminal clients may be facing include restraining orders, restraining order and probation violations, expungements; appeals; and immigration issues related to criminal charges. Our criminal defense attorneys are passionate about ensuring that individuals empower themselves by being informed about their constitutional rights, and stand at the ready to fight in the defense of those facing criminal charges.
Source:
https://www.charlotteobserver.com/news/coronavirus/article241977711.html
https://www.cdc.gov/coronavirus/2019-ncov/need-extra-precautions/people-at-higher-risk.html
Image Credit: 
https://www.freeimages.com/photo/prison-1-1513959
See Our Related Video from our YouTube channel:
https://www.youtube.com/user/ArnoldSmithPLLC/videos
See Our Related Blog Posts: