Charlotte DWI Lawyer Brad Smith answers the question: "Can the police search my car without a warrant?"
The state of North Carolina is strict on drug crimes. In an effort to eliminate the use of drugs throughout the state, courts and lawmakers have been eager to crack down on the use, sale, and possession of controlled substances. Recently, the North Carolina Supreme Court has broadened the meaning of "maintaining a dwelling" as it pertains to using, selling, or storing a controlled substance. In State v. Rogers, the court disavows previous courts' use of  "maintaining a dwelling" and broadens the use of the term.
In State v. Rogers the defendant had outstanding warrants and was implicated in various drug activity. A detective, knowing about these warrants and activity, knew the vehicle the defendant drove and the hotel in which he would be staying. Another officer, a lieutenant, was surveying the defendant's hotel room. After witnessing the defendant arrive at the hotel room and then leave approximately 45 minutes later, other officers stopped the defendant. The officers brought the defendant, and his vehicle, back to the hotel. In conducting a search of the car and hotel room, officers found crack cocaine, a marijuana cigarette, cash, and small zip lock bags. In addition, the defendant's cell phone contained calls and text messages that were consistent with the sale of drugs.
The defendant was charged with a variety of drug charges, including the charge of maintaining a vehicle for the use or sale of controlled substances. North Carolina statutes make it unlawful for a person "to knowingly keep or maintain any store, shop, warehouse, dwelling house, building, vehicle, boat, aircraft or anyplace whatever, which is resorted to by persons using controlled substances…for the purpose of using such substances, or which is used for the keeping or selling of the same."
On appeal, the court found that there was not enough evidence to establish that the defendant had "kept" the car. The Supreme Court did not agree with this finding. The Court stated that in determining what is "keeping," even "possessing something for at least a short period of time – or intending to retain possession of something in the future – for a certain use." Thus, expanding the definition of "maintaining a dwelling" even for a short period of time. A receipt of service performed on the car two and a half months prior, coupled with the officers not seeing anyone else use the vehicle, the court found it reasonable that the defendant possessed the car during the last two and a half months.
Interpretation of statutes can be difficult. Since a statute is often open to interpretation, courts can end up coming to different conclusions and changing previous understandings, like in this case. As such, if you have questions about a criminal statute in North Carolina, or are facing criminal charges, contact knowledgeable criminal defense attorneys at Arnold & Smith, PLLC. Our attorneys have years of experience interpreting statutes and providing the best defense possible given the circumstances. Contact us today for a consultation and gain a better understanding of the charges you might be facing. If you find yourself facing criminal charges and need the help of an experienced criminal defense attorney in or around Charlotte, Lake Norman, or our new office in Monroe (by appointment only until 2019), please contact Arnold & Smith, PLLC today at (704) 370-2828 or find additional resources here.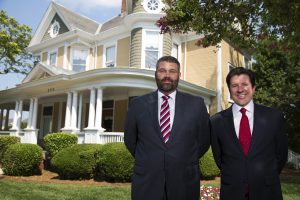 The criminal defense attorneys at Arnold & Smith, PLLC make it their mission to zealously defend their clients on a wide range of criminal matters at both the state and federal levels. These matters may include any charge from traffic offenses; DWI/DUI; drug charges (from simple possession to possession with intent to distribute and trafficking); gun permit denials; weapons offenses; and property crimes (larceny, breaking and entering, robbery, fraud, embezzlement, white collar offenses); to sexually related offenses (indecent exposure; sexual assault, crimes against nature, removal from sex offender registry); and violent crimes (domestic violence; assault; manslaughter; homicide, murder). Other legal issues that Arnold & Smith, PLLC criminal clients may be facing include restraining orders, restraining order and probation violations, expungements; appeals; and immigration issues related to criminal charges. Our criminal defense attorneys are passionate about ensuring that individuals empower themselves by being informed about their constitutional rights, and stand at the ready to fight in the defense of those facing criminal charges.
Source:
https://appellate.nccourts.org/opinions/?c=1&pdf=37262
https://www.ncleg.net/EnactedLegislation/Statutes/PDF/BySection/Chapter_90/GS_90-108.pdf
Image Credit:
https://www.freeimages.com/photo/audi-a4-interior-wide-angle-1505715
See Our Related Video from our YouTube channel:
https://www.youtube.com/user/ArnoldSmithPLLC?feature=watch
See Our Related Blog Posts: