Charlotte DWI Lawyer Brad Smith answers the question: "Is there more than one way for police to charge a person with DWI?"
The summer months are upon us, and more people are beginning to enjoy boating with friends and family. As the popularity of this recreational activity continues to grow, it is important to remain aware of the potential dangers of boating to prevent harm and injury to yourself and others.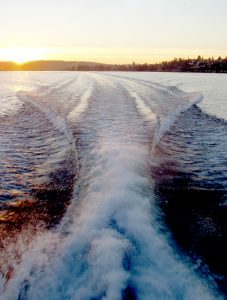 Today, we are going to discuss one potential danger, which is Boating While Intoxicated (or BWI). The state of North Carolina places great emphasis on the importance of safe boating and has passed strict legislation regarding Boating While Intoxicated.
What Does Boating While Intoxicated (BWI) Mean?
Boating While Intoxicated is when the operator of a boat is under the influence of alcohol or drugs. Boating while intoxicated is much like driving under the influence. One's inhibitions and proper judgments are compromised from the effects that alcohol or drugs have on the mind and body. However, in many ways, it is more dangerous to be intoxicated while boating than while driving.
The fact is, the wind, sun, and waves can contribute to the disorientation the operator of the boat feels while boating under the influence. These factors combined may lead to the operator being unable to properly control the boat, resulting in capsizing, colliding with another boat, and more. In North Carolina, a boat operator may be convicted of BWI if they are either boating under the influence of an impairing substance, or if they have an alcohol concentration of 0.08 or more.
What are the Penalties if I am Charged With BWI?
The U.S. Coast Guard enforces a federal law that prohibits Boating While Intoxicated. This applies to all types of boats, from canoes to large ships. Someone charged with BWI can face harsh penalties, revocation of boat operating privileges, and serious jail time. Furthermore, the General Assembly of North Carolina implemented an act in 2016 which increases the consequences for BWI offenses that result in death or serious injury, called Sheyenne's Law.
Under this law, a BWI offender who has caused serious injury to another individual can be convicted of a Class F felony which can result in 10 to 41 months in prison. Additionally, a BWI offender who has caused the death of another individual can be convicted of a Class D felony and can face even more jail time, from 38 to 160 months in prison.
Further penalties and punishments can occur beyond these based on the offender's criminal history. Overall, Sheyenne's Law places significant penalties on BWI offenders in North Carolina in an effort to make boaters more aware of their actions and corresponding consequences.
Have You Been Charged with BWI? Contact our Office Today
If you are facing Boating While Intoxicated charges in the state of North Carolina, we urge you to reach out to our team of criminal defense attorneys. We can provide you with the much-needed representation to help you fight these charges. Get a phone, video or in-person consultation by calling at (704) 370-2828 to speak with our detail-oriented and well-versed lawyers with offices in Charlotte, Lake Norman, and Monroe, please contact Arnold & Smith, PLLC today or find additional resources here.
The criminal defense attorneys at Arnold & Smith, PLLC make it their mission to zealously defend their clients on a wide range of criminal matters at both the state and federal levels. These matters may include any charge from traffic offenses; DWI/DUI; drug charges (from simple possession to possession with intent to distribute and trafficking); gun permit denials; weapons offenses; and property crimes (larceny, breaking and entering, robbery, fraud, embezzlement, white collar offenses); to sexually related offenses (indecent exposure; sexual assault, crimes against nature, removal from sex offender registry); and violent crimes (domestic violence; assault; manslaughter; homicide, murder). Other legal issues that Arnold & Smith, PLLC criminal clients may be facing include restraining orders, restraining order and probation violations, expungements; appeals; and immigration issues related to criminal charges. Our criminal defense attorneys are passionate about ensuring that individuals empower themselves by being informed about their constitutional rights, and stand at the ready to fight in the defense of those facing criminal charges.
Source:
https://www.uscgboating.org/recreational-boaters/boating-under-the-influence.php
https://nccriminallaw.sog.unc.edu/boating-while-impaired/
https://www.ncleg.net/Sessions/2015/Bills/House/PDF/H958v3.pdf
Image Credit: 
https://www.freeimages.com/photo/seattle-boating-1363977
See Our Related Video from our YouTube channel:
https://www.youtube.com/user/ArnoldSmithPLLC/videos
See Our Related Blog Posts: