Charlotte Criminal Lawyer Brad Smith answers the question: "Should I ever plead guilty to a charge?"
A charge of disorderly conduct is typically a misdemeanor crime that may encompass a variety of actions. The police often may charge disorderly conduct along with other charges in a case. While disorderly conduct may seem like a minor crime, it can still cause you problems and can stay on your record. When you are charged with disorderly conduct you may get released immediately or may be held until your first hearing. You will want to fight disorderly conduct charges with the help of an experienced criminal defense attorney,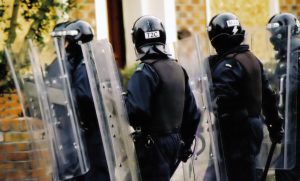 What is Disorderly Conduct?
Disorderly conduct is also called public disturbance. Disorderly conduct is a crime that is covered under North Carolina General Statute § 14-288.4. There are many actions that might fall under the rather broad category of disorderly conduct. Some of the actions defined in the law include:
Engaging in fighting or other violent conduct that creates the threat of an imminent fight or violence.
An utterance or gesture, display, or abusive language intended to provoke violence.
Seizing, or taking control of a building without permission
Refusing to vacate a building when told to do so by law enforcement or officers of the building.
Disrupts or interferes with teaching at a school or institution
Disrupts a funeral
Interferes with a religious ceremony
Disorderly conduct may therefore apply to someone who is involved in a sit-in or protest. Public urination and public drunkenness also fall under the category of disorderly conduct. The charges may be somewhat of a catch-all when the behavior does not fit into the definitions of other crimes.
Penalties for Disorderly Conduct Conviction
Disorderly conduct is generally a Class 2 misdemeanor crime. If you are convicted of disorderly conduct you may face penalties that include up to 60 days in jail and fines of up to $1,000. The penalties will vary based on prior convictions. You could be placed on probation for a period of time and you will have a misdemeanor crime conviction on your record. Unfortunately, a disorderly conduct charge is often just one of several or more charges incurred at the same time. For instance, you might be charged with assault along with disorderly conduct if you were fighting. Your attorney will review the charges and the evidence and work to get some or all of the charges addressed.
Rioting and Drunk and Disorderly
When you participate in a riot, it could lead to a charge of disorderly conduct, particularly if you fail to disperse when requested to do so by law enforcement. A riot is different from a public assembly in that a riot involves three or more people gathered together to threaten, incite, or cause violence. A drunk and disorderly charge could result from activities such as fighting, swearing, or blocking a building entrance or street. You could be charged if you participate in this activity in public, even in a privately owned space.
Defending Disorderly Conduct Charges
There are ways to defend charges of disorderly conduct. The best defense depends on the many variables of your particular case. Your attorney will review the charges and the evidence against you to help evaluate your defense options. If you were involved in a protest, you may be able to assert your constitutional rights. In some cases, you may be able to prove self defense in the situation. Sometimes, the evidence against you is weak or mistakes were made that will disallow it in court. In some cases, the prosecutor will agree to drop the charges completely after discussing the matter with your attorney.
If you or a loved one is facing disorderly conduct or other criminal charges, we can help. Please contact us today to get a phone, video or in-person consultation by calling at (704) 370-2828 to speak with our detail-oriented and well-versed lawyers with offices in Charlotte, Lake Norman, and Monroe, please contact Arnold & Smith, PLLC today or find additional resources here.
The criminal defense attorneys at Arnold & Smith, PLLC make it their mission to zealously defend their clients on a wide range of criminal matters at both the state and federal levels. These matters may include any charge from traffic offenses; DWI/DUI; drug charges (from simple possession to possession with intent to distribute and trafficking); gun permit denials; weapons offenses; and property crimes (larceny, breaking and entering, robbery, fraud, embezzlement, white collar offenses); to sexually related offenses (indecent exposure; sexual assault, crimes against nature, removal from sex offender registry); and violent crimes (domestic violence; assault; manslaughter; homicide, murder). Other legal issues that Arnold & Smith, PLLC criminal clients may be facing include restraining orders, restraining order and probation violations, expungements; appeals; and immigration issues related to criminal charges. Our criminal defense attorneys are passionate about ensuring that individuals empower themselves by being informed about their constitutional rights, and stand at the ready to fight in the defense of those facing criminal charges.
Source:
https://www.ncleg.net/enactedlegislation/statutes/html/bysection/chapter_14/gs_14-288.4.html#:~:text=G.S.%2014%2D288.4,imminent%20fighting%20or%20other%20violence.
https://www.ncleg.net/enactedlegislation/statutes/html/bysection/chapter_15a/gs_15a-1340.23.html
Image Credit: 
https://www.freeimages.com/photo/police-squad-1-1315844
See Our Related Video from our YouTube channel:
https://www.youtube.com/user/ArnoldSmithPLLC/videos
See Our Related Blog Posts: