Charlotte DWI Lawyer Brad Smith answers the question: "What am I obligated to do if I've been pulled for Drinking and Driving?"
Only a small percentage of cases make their way to the United States Supreme Court. The case of State v. Mitchell is one of the chosen few that will be heard by the justices in the coming term. The case revolves around the issue of implied consent. State v. Mitchell originated in Wisconsin, but its content is not a stranger to North Carolina. The North Carolina Supreme Court heard a case about implied consent in State v. Romano. In Romano, the North Carolina court found that withdrawing blood from an unconscious DWI suspect violated the Fourth Amendment because there was no exigent circumstance.
In Mitchell, law enforcement received notice that a man, Gerald Mitchell, was driving while impaired. Officers were able to locate Mitchell and found him walking by a beach. Officers described Mitchell as "wet, shirtless, and covered in sand." Additionally, Mitchell appeared to have trouble with balance and slurring speech. Mitchell admitted that he drove drunk, parked his vehicle because he could not drive, and took a breathalyzer test that showed results of .24. Officers decided to take Mitchell to the hospital to get his blood drawn. By the time they arrived at the hospital, Mitchell was no longer conscious. An officer wheeled Mitchell in the hospital and read the statutory implied consent rights to Mitchell while he was unconscious and unresponsive. The hospital withdrew blood at the officer's instruction and the results were .22.
At trial, the Mitchell wanted the results of the blood test thrown out because it allegedly violated his Fourth Amendment rights. The trial court denied this motion after the state's argument that he consented to the blood draw by driving on the road and thereby giving implied consent. Mitchell was convicted of impaired driving. He appealed to the Wisconsin Supreme Court who affirmed the conviction.
Supreme Court Consideration
In hearing this case, the U.S. Supreme Court is going to clear up the decision it made in Birchfield v. North Dakota. In Birchfield, the Court stated that breathalyzer tests are permissible during an arrest. The Court also found that blood tests are different than breathalyzer tests. The Court states that a blood test is more intrusive than a breathalyzer. While the Court made this determination, the Court did not distinguish when warrantless blood testing is permissible and does not violate the suspect's rights. In deciding this case, the U.S. Supreme Court will be able to make a determination on defendant's rights and warrantless blood tests. This decision can impact future cases that arise in North Carolina surrounding drawing a suspect's blood without a warrant and whether or not a driver has given consent.
The criminal law attorneys at Arnold & Smith, PLLC are here to help you through a criminal charge. We know that facing any type of charge is scary, but it can be especially difficult if you think that your rights have been violated. We prepare the best possible defense under the circumstances, playing special attention to violation of rights and use every defense possible. Contact us today for a consultation. If you find yourself facing criminal charges and need the help of an experienced criminal defense attorney in or around Charlotte, Lake Norman, or our new office in Monroe (by appointment only until 2019), please contact Arnold & Smith, PLLC today at (704) 370-2828 or find additional resources here.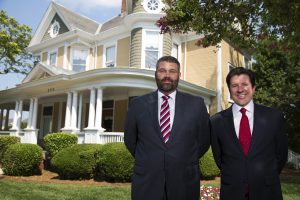 The criminal defense attorneys at Arnold & Smith, PLLC make it their mission to zealously defend their clients on a wide range of criminal matters at both the state and federal levels. These matters may include any charge from traffic offenses; DWI/DUI; drug charges (from simple possession to possession with intent to distribute and trafficking); gun permit denials; weapons offenses; and property crimes (larceny, breaking and entering, robbery, fraud, embezzlement, white collar offenses); to sexually related offenses (indecent exposure; sexual assault, crimes against nature, removal from sex offender registry); and violent crimes (domestic violence; assault; manslaughter; homicide, murder). Other legal issues that Arnold & Smith, PLLC criminal clients may be facing include restraining orders, restraining order and probation violations, expungements; appeals; and immigration issues related to criminal charges. Our criminal defense attorneys are passionate about ensuring that individuals empower themselves by being informed about their constitutional rights, and stand at the ready to fight in the defense of those facing criminal charges.
Source:
https://www.supremecourt.gov/DocketPDF/18/18-6210/65183/20181001163136137_Mitchell%20Gerald%20Petition%20for%20Certiorari.pdf
https://www.supremecourt.gov/opinions/15pdf/14-1468_8n59.pdf
Image Credit:
https://www.freeimages.com/photo/iv-drip-intravenous-treatmen-1524733
See Our Related Video from our YouTube channel:
https://www.youtube.com/user/ArnoldSmithPLLC?feature=watch
See Our Related Blog Posts: